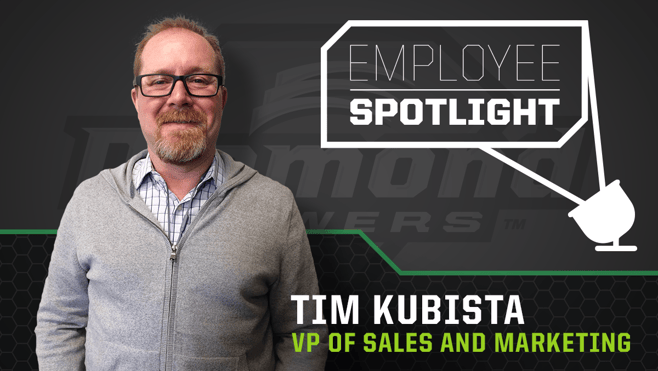 Diamond appreciates and values the people who contribute to our positive culture. Meet Tim Kubista, Vice President of Sales & Marketing at Diamond Mowers.
How long have you been with Diamond Mowers and what is your role?

I have been with Diamond Mowers a little over 5 years. I am responsible for creating revenue and customer service.
What do you like most about working at Diamond?
I like that Diamond provides an opportunity to positively impact the lives of others. Neil, one of our Technical Trainers is a prime example. When I first started, Neil worked on the factory floor and wasn't happy. Today, Neil not only creates tremendous value for the company, but he loves his job and is very good at it. There are also countless customers who have started successful businesses with our products.
How do you structure your day?
Well, I don't structure my day, I plan my day the day before. It doesn't work for me to structure my day with a balance between meetings or tasks. I spend my time where I need to spend it. The key is that I plan my day the day before, and my week the week before.
What is your biggest challenge?
Deciding what not to do. Every day I have more on my list than I can accomplish. The number one challenge, no matter if it is today, this week, this year or the next five years, is deciding what not to do.
What is the best advice you have received?
Listen more and talk less. I feel it has made me a more effective manager. Not only do you do a better job making sure people feel heard, but when people feel heard they work harder toward a common goal.
What book(s) are you currently reading and would you recommend?
.
Want to be the best? Join the best!