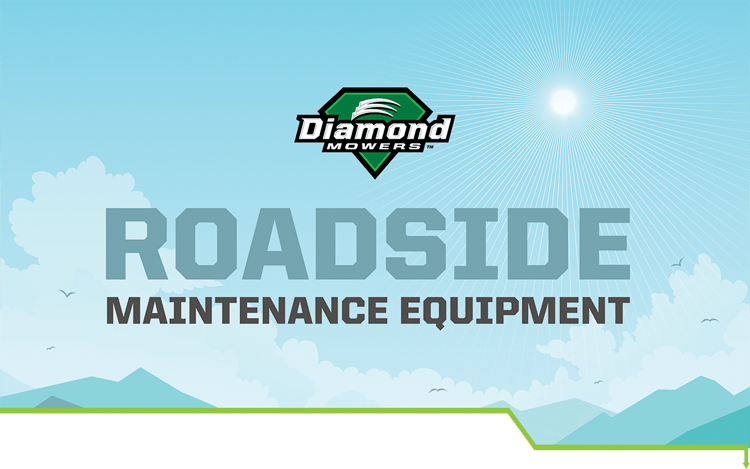 Roadside maintenance is vital for keeping any road in safe-driving condition - from a rural gravel road to major highways and other high-traffic thoroughfares. Regular maintenance keeps roads safe by removing debris and brush which blocks visibility, as well as prevents damage due to poor drainage.
With the right attachments, roadside upkeep can become safer and more efficient. Learn more about the challenges and benefits of roadside maintenance and how quality equipment can simplify the process.


The Challenges of Roadside Maintenance
Road maintenance is a necessary practice that can pose several challenges. Some common issues include:
Invasive plant species -- Aggressive invasive species require more attention and can be particularly difficult to control without the right equipment. Choose mowing attachments that offer high productivity to minimize the impact on your maintenance budget.
Drainage problems -- Poor drainage can increase erosion and cause roads to be unsafe for vehicles to navigate.
Time and labor demands -- Without the proper tools, roadside maintenance can be very time-consuming, posing a challenge for contractors or municipalities.
If left unaddressed, these issues can escalate into more significant problems, eventually impacting road users and cause expensive, time-consuming repairs.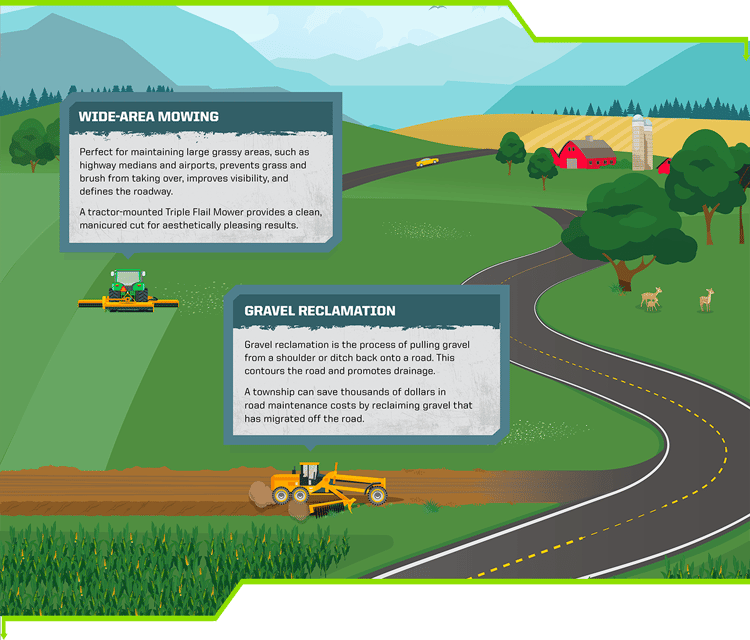 Roadside Maintenance Tasks
Common roadside maintenance tasks for municipal workers, state transportation departments, among others include:
Wide-Area Mowing
Wide-area mowing is ideal for large grassy areas such as medians. Mowing trims grass and brush, increases visibility, and outlines the roadway; however, this can be the most time-consuming aspect of roadside maintenance without the right equipment.
Gravel Reclamation
Gravel reclamation promotes drainage and defines the road by pulling excess gravel from the shoulder onto the main road. This process helps to cut back on gravel costs and extends the life of the road.
Ditching
When material settles to the bottom of ditches, it can block water flow and create a buildup that may eventually cause erosion. Removing blockages caused by dirt, sand, and debris is necessary for proper drainage.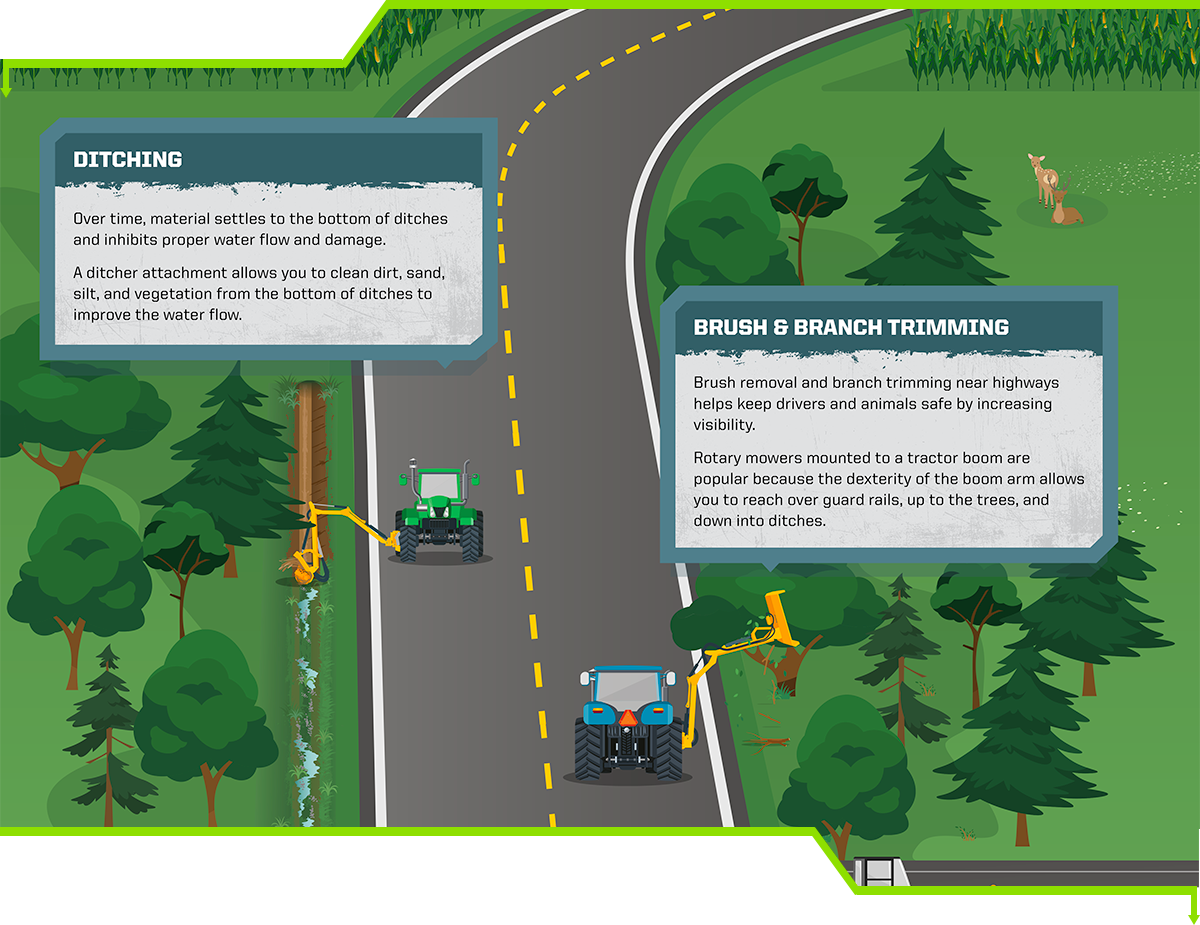 Brush and Branch Trimming
Trimming branches and removing brush improves visibility for drivers and creates a safer driving environment.
Bridge and Overpass Maintenance
Clearing brush and cutting grass around bridges and overpasses improve aesthetics and visibility.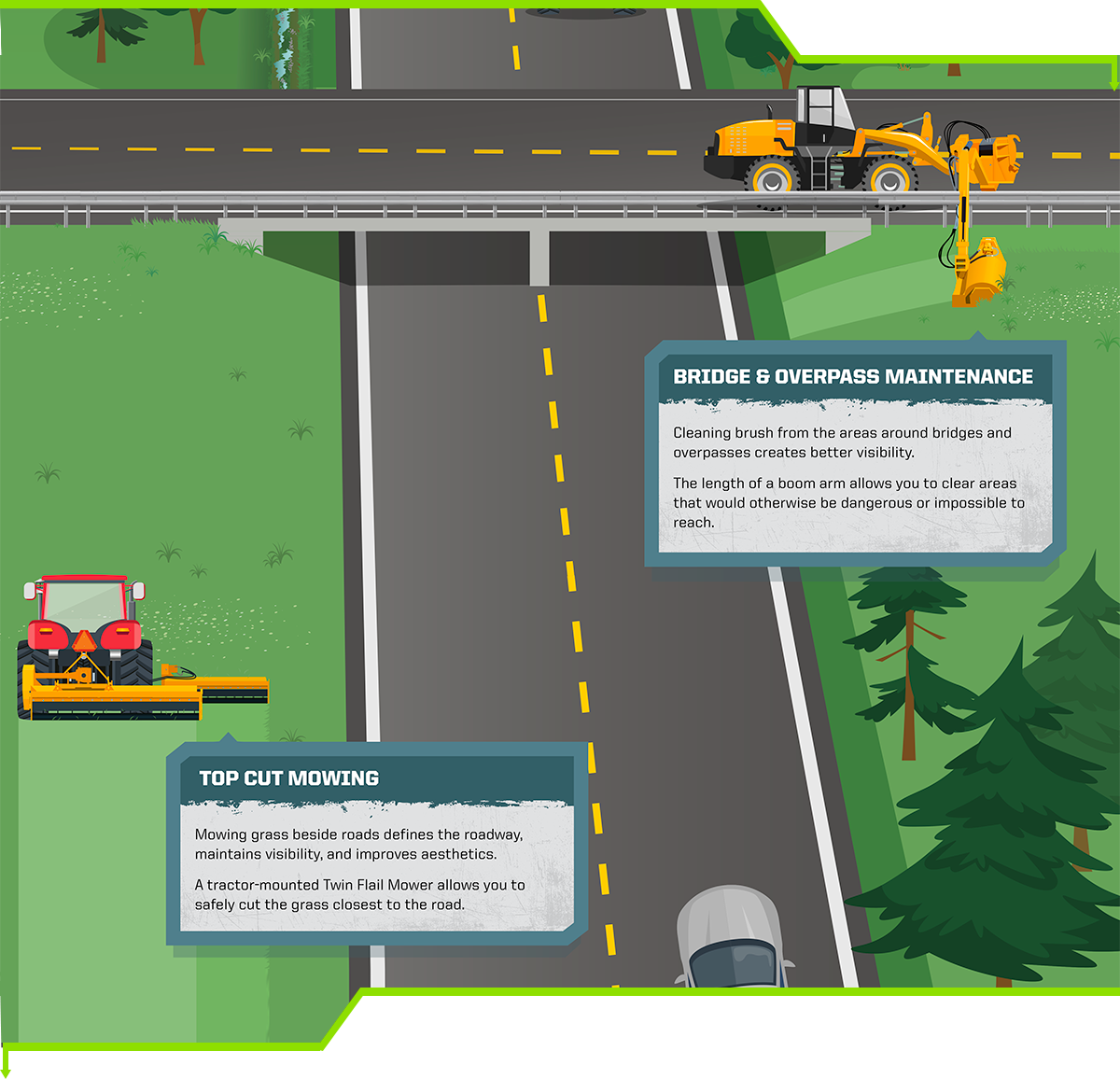 Diamond Mowers Roadside Maintenance Equipment
Diamond Mowers offers a robust portfolio of roadside maintenance attachments for tractors, wheel loaders, skid-steers, and excavators. Our heavy-duty attachments get more done with less time and labor.

When it comes to completing roadside maintenance projects efficiently and effectively, our customers rely on the following attachments:
Our quality attachments streamline roadside maintenance tasks and help protect drivers.
Diamond Mowers Roadside Maintenance Equipment
Roadside maintenance increases road safety and aesthetics. Whether you're maintaining personal property or public roads and highways, the right tools can make all the difference.

With Diamond Mowers attachments for tractors, you can effectively and efficiently maintain your roadways. Contact us today to speak to a sales representative.