From our latest product innovations to a special in-booth event, Diamond Mowers will be dishing the dirt during the CONEXPO-CON/AGG 2023 show next month in Las Vegas (March 14-18). One of the industry's leading manufacturers of land clearing and vegetation management attachments, Diamond plans to showcase the latest additions to its industry-leading line-up of mulching, mowing, and brush cutting essentials for skid-steers, excavators, and tractors, including a world premier innovation and four other new-to-market products introduced within the past 15 months. Additionally, the company will host a live broadcast of the popular "Dirt Bags" podcast from its booth on March 16.
"At Diamond Mowers, we are committed to putting our customers first and being the best partner in the industry by engineering the toughest and most reliable solutions for their needs," explained Dan Stachel, executive vice president of Diamond Mowers. "We are eager for dealers and contractors to have the opportunity to interact with our latest innovations at CONEXPO. Engineered for heavy-duty mulching and mowing applications, these game-changing products promise to optimize productivity, diversify work opportunities, and create new revenue streams."
PRODUCT LINEUP
CONEXPO-CON/AGG attendees will have the opportunity to see the following attachments from Diamond Mowers on display at Booth #N10369: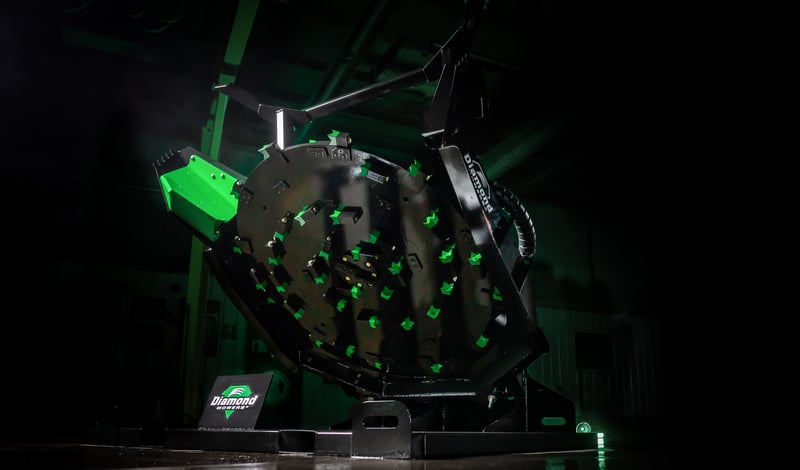 SK Disc Mulcher Belt Drive Pro X – NEW!
Making its industry debut at CONEXPO, Diamond Mowers' new, patent-pending Belt Drive Disc Mulcher is engineered for world-class productivity and ideally suited for contractors and mulching professionals who specialize in land clearing, vegetation and forestry management, and pasture reclamation. It features increased torque to obliterate anything in its path without slowing down, recovers twice as fast as other mulchers, and boasts an efficient design that promotes lower hydraulic temperatures for maximum uptime and carrier life. Enhanced forward visibility ensures contractors do not hit obstacles and can better position vegetation for optimal performance. Featuring a 60" cutting width, this powerful attachment slices through trees and brush up to 14" in diameter, shreds material up to 6" in diameter, and attaches to most skid-steer and compact track loaders. While Four-Point Hardened Steel Teeth come standard, users can swap them for Twin Maul® Carbide Teeth to absorb impact and ensure the right bite for every application.
"Reinforcing our reputation for building first-rate mulchers, this unrivaled attachment is an eating machine that outclasses anything on the market," said Stachel. "Because time is money and productivity drives profitability, this machine is designed to work just as hard as its operators."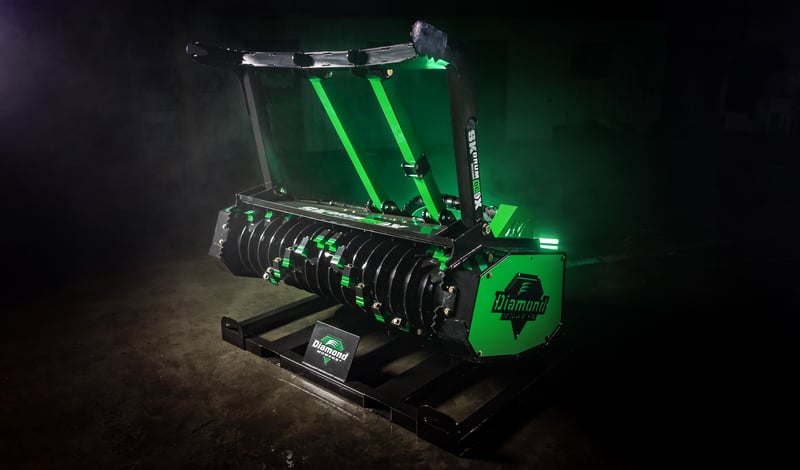 Ideal for large-scale mulching and brush clearing applications, Diamond Mowers' Drum Mulcher DC Pro X is a depth control attachment that shreds trees and brush up to 9" in diameter and produces a fine mulch. Its proprietary helical tooth pattern is carefully modeled to feed material efficiently toward the center of the drum while its depth control rings control bite size for optimal infeed and material processing. Providing contractors maximum versatility, this powerful machine can utilize any of three different mulching teeth options based on environment and operator preference. The attachment comes with Twin Chisel® Planer Teeth that are ideal for high-production environments and intermittent ground contact. Four-Point Hardened Steel Teeth are also available for applications with limited ground contact, as are Twin Maul® Carbide Teeth for use on rocky terrain. Compatible with standard and high-flow hydraulic machines, the DC Pro X is offered in 60" and 72" cutting widths.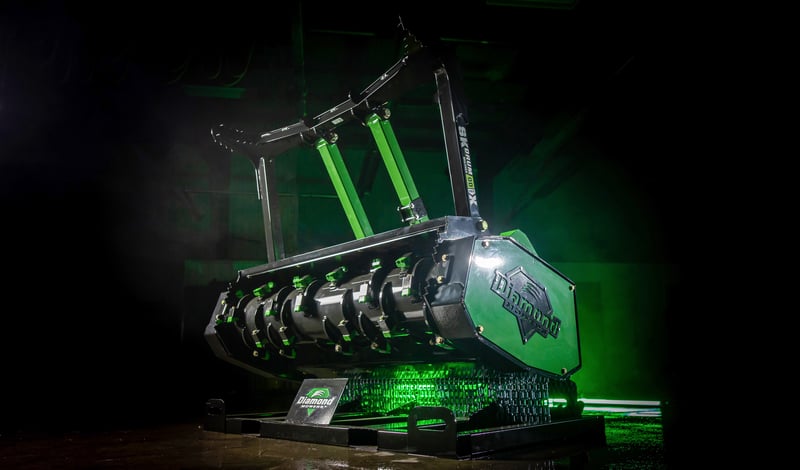 The Drum Mulcher OD Pro X offers a hybrid design that fuses the best performance features of depth control and open drum mulchers into one attachment. Perfect for contractors requiring power and flexibility for harsh mulching needs, this attachment is made for a wide range of heavy-duty applications, from land clearing and vegetation management to utility and roadside maintenance. Designed to process material up to 9" in diameter, this innovative model features an optimized infeed system that produces a smaller mulch than conventional open drum models. It features a heavy-duty push bar that pushes and clears brush, as well as directional rake tines that deflect vegetation back to the rotor and shredding chamber to be ripped apart, and is optimized for carbide teeth for heavy ground engagement. Available in 60" and 72" cutting widths, it attaches to most skid-steers, and compact track loaders, is compatible with high-flow machines, and accommodates the same three tooth options as the DC Pro X.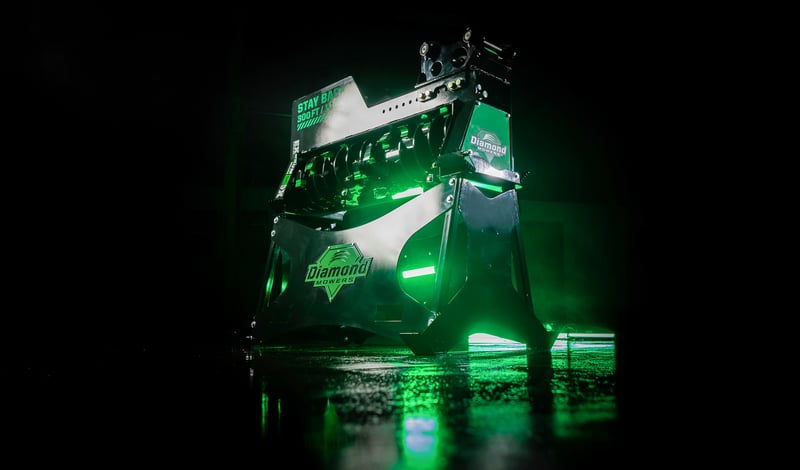 Diamond Mowers' Excavator Drum Mulcher Pro X increases the versatility of any midi-excavator while delivering more productivity per pass. Designed to tackle mulching or brush clearing with power and precision, this efficient solution effectively cuts back and processes unwanted vegetation, making it a great choice for land clearing, fire fuel reduction, and right-of-way maintenance. Powered by a Rexroth 63cc variable displacement hydraulic motor to eliminate material up to 8" in diameter, this innovative attachment also features serrated skid shoes to control, position, and manipulate downed material. An optimized infeed system allows for optimum tree engagement, feeding material from left to right as it sweeps the ground, and produces an aesthetically desirable chip size. A bolt-on door on the attachment's backside, which can be easily removed for maximum production when the situation warrants, holds chips and controls thrown debris to ensure safety when working near roads and in densely populated areas. The Excavator Drum Mulcher Pro X is offered in 30" and 50" cutting widths to accommodate excavator carriers from 4.5 to 10 metric tons.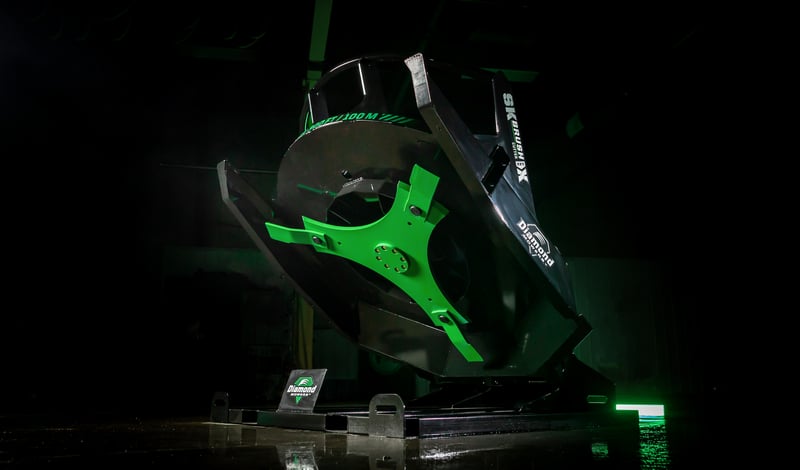 From tackling vegetation overgrowth to enhancing land value, the Brush Cutter Pro X excels at thoroughly processing small material, such as thick grass, brush, branches, and trees up to 10" in diameter. Ideal for heavy-duty rural environments, farms, ranches, and recreational properties, this versatile attachment is equipped with four hydraulic motors that optimize blade speed for safe operation and three hardened steel blades for perfectly cut vegetation. Its multi-hex cutting discs provide greater inertia to work in demanding conditions while replaceable hex blade bolts provide the toughest blade retention in the industry. Available in 60", 72", and 84" cutting widths, the Brush Cutter Pro X is intended for heavy use and is compatible with standard and high-flow skid-steers.
"These latest innovations are proven to outpace, outpower, and outperform other attachments on the market to make it easier for contractors to deliver increased quality and satisfaction to their clients," noted Stachel.
"DIRT BAGS" LIVE PODCAST
In addition to these new products, Diamond Mowers will host a special episode of the "Dirt Bags" podcast live from its booth at the Las Vegas Convention Center on March 16. Hosted by Luke Eggebraaten and Luke Payne, the popular construction podcast connects the dirt world and provides trusted resources for those looking to start or grow their own construction business. Diamond Mowers' Director of Development Matt Nelson will be a featured guest on the episode. The live broadcast will begin airing at 10am PST, and all CONEXPO attendees are invited to stop by and experience it.
---
Join Us at ConExpo 2023 in Vegas!
To check out the latest innovations from Diamond Mowers, stop by

Booth #N10369

in the North Hall during CONEXPO-CON/AGG 2023 or visit diamondmowers.com

.

To receive a Diamond discount on your show registration, pre-register using code

DIA3799C

To learn how to become a Diamond Mowers' dealer, click here.
For more info on Diamond at ConExpo or to schedule a meeting, click here.