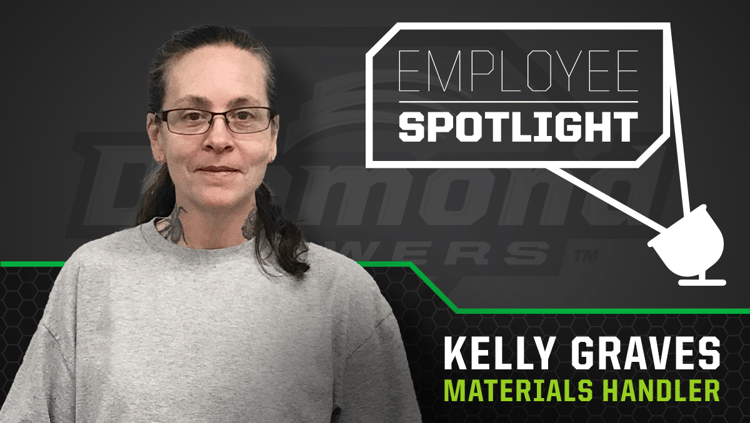 Diamond appreciates the people who contribute to our Vision and Values. Meet Kelly Graves, Materials Handler, and a true representation of what hard work and excellence can accomplish.
What is your role, and how has it expanded at Diamond Mowers?
I'm a Materials Handler and have been with Diamond for three years now. When I started working at Diamond, my primary assignment was pulling parts orders for customers and shop builds. After a couple of years, I transitioned into a role that was more focused on stocking inventory in the warehouse.
How would you describe how Diamond has changed over the years?
In my time at Diamond Mowers, I have seen a great deal of expansion and increased volume of product. I would describe a "typical" day at Diamond as very busy, putting materials away at a fast pace. The fact that we are all here to work keeps me going and is great motivation!
How would you describe Diamond in one statement?
It's a fantastic place to work! I genuinely enjoy the people I work with and the relationships I have forged in my time at Diamond.
What is your favorite Diamond Mowers product, and why?
The drum mulcher is my favorite. It just destroys stuff and is fun to watch!
What is important to you outside of work?
My husband and I do not have any maternal children of our own - but we are foster parents. We are part of the foster system providing shelter to displaced children. We currently have a foster child and have had 26 children in our care throughout our foster parenting journey.
What's your dream vacation?
I love to travel - I just need to do it more! My dream vacation is to travel to Colorado and enjoy the scenery. I would love to skydive while there.
What would you tell yourself at age 13?
Listen to your elders. They know best.
You are the happiest when...?
I am happiest when I am at home sitting on my back porch with a glass of local South Dakota wine!



Want to be the best? Join the best!