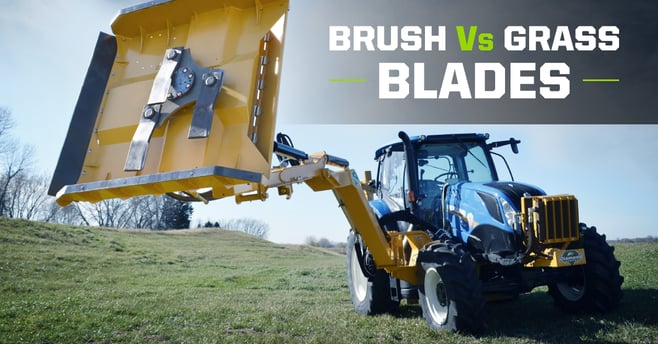 There are different blades compatible with tractor Rotary Mowers. Knowing your application will help determine what type of blade will work best for you.
The most significant difference between the types of rotary blades Diamond offers relates to what you intend to cut and how the finished product appears.
Grass blades are thinner (1/2" thick) and leave a cleaner finished product.
Brush blades are thicker (5/8" thick) and are more durable for use in heavy material, but tend to leave a rougher finished product.
Side Rotary Blades
Our side and rear rotary attachment options are straight forward with either standard grass blades or
high-suction grass blades available. These blades mount to a round disc is a two-blade configuration. This configuration provides very efficient cutting in a roadside or field application. We would recommend the following blade options:
Standard grass blades for tall grass
High-suction grass blades for shorter grass environments.
Boom Mower Blades
Boom mowers offer more variety with either a Tri-Hex disc or round disc available for a blade carrier and brush or grass blades. The most commonly ordered configuration is a 50" or 60" rotary with a Tri-Hex disc with 5/8" brush blades.
Brush blades provide exceptional durability for general work such as delimbing, trimming grass and light brush, or cutting the occasional 8" tree. The cutouts on the Tri-Hex disc aid the blades in mulching light brush and reducing the amount of cleanup afterward.
Two-Blade Application
Other blade options include a round disc making a two-blade application possible. If the boom is only used for grass cutting, this might be a better option paired with ½" thick grass blades. The grass blades have a slight bend or a "wing" on them and create suction to lift the grass, cutting it more efficiently. However, because they are thinner, they do not handle heavy use as well and are more prone to bending if cutting heavy brush or hitting rocks.
---
Diamond knows that when an operator is down due to repairs, getting the right part fast is important. That's why we offer a 72-hour parts shipping guarantee on our top 750, most common parts. If we don't ship it within 72-hours, the part and the shipping cost is free.