High tech software, tools, and technology are major topics in the advancement of vegetation management for years to come.
Computerized Maintenance Management Software (CMMS)
Computerized Maintenance Management Software (CMMS) can streamline your Preventative Maintenance Program, making it more efficient, saving time and money.
Allows you to optimize repair and equipment costs, and minimize unexpected downtime.
Makes it easier to analyze your equipment preventative maintenance needs versus operating and maintenance costs.
Assists tracking unexpected equipment downtime and repair costs.
Touchscreen Controls, Tablets and Smartphones
These tools are replacing the need for hard copy manuals and adding functionality and value to roadside vegetation management.
Devices are making paper hard copy manuals obsolete; as documents can be downloaded with the operator's manuals, parts books, maintenance schedules, etc.
Touchscreen controls are beginning to appear on mowing equipment, allowing for more precise control with self-analytical features for optimized efficiency.
Via internet communications, these devices can communicate with home base and can even be configured to work with your CMMS maintenance software.
Drones
Drones are ideal for roadside vegetation surveying and reconnaissance.
Drones can be outfitted with cameras, GPS location, LiDAR, and a host of other technologies.
Drones can be used to map out problem areas of vegetation growth.
Drones can reduce costs by decreasing the need for additional vehicles and operators conducting roadside surveys, as well as conduct these surveys in a drastically reduced amount of time.
LiDAR
LiDAR is a laser scanner that takes 300,000 to 500,000 measurements per second with an accuracy level of +/- 5cm to scan and map vegetation location and size. Used primarily in utility line vegetation maintenance, LiDAR has great potential for roadside vegetation maintenance.
LiDAR systems can be outfitted to drones for optimal efficiency and speed as opposed to ground operations.
Combined with environmental software, vegetation managers can add bio-metric information and model existing vegetation to predict future growth and problem areas.
By mapping roads, distribution assets (such as power poles, lights, and other structures) can assist roadside operators in vegetation and infrastructure maintenance.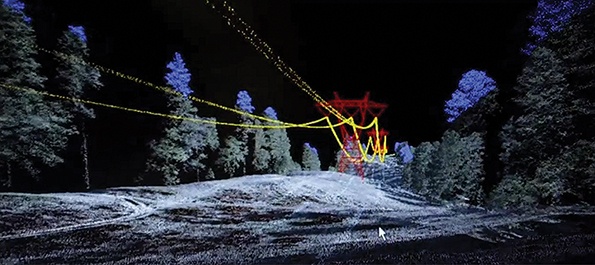 A LiDAR scan displays fall-in vegetation at maximum operating condition. Courtesy of GeoDigital.

Environmental Management Software
Data obtained from roadside operators and surveyors, drones, and LiDAR data can be combined to form a comprehensive overview of vegetation management.
Environmental software, (such as GeoTransTrac – THX Car) can integrate data obtained from multiple sources (LiDAR, aerial/ground photography, 3d terrain mapping, etc.) into a user-friendly interface to visualize vegetation "as is", "what if", and "to be" to allow accurate predictions and decisions, with quicker response times.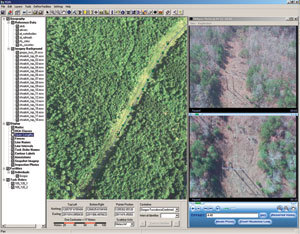 ---
Staying within budget due to tight constraints, trying to cut costs, and operating and maintenance cost surges, can be extremely difficult. Technology offers the ability to streamline, cut costs, and exponentially increase efficiency of roadside vegetation maintenance operations.
For common maintenance questions visit Tech Tips.