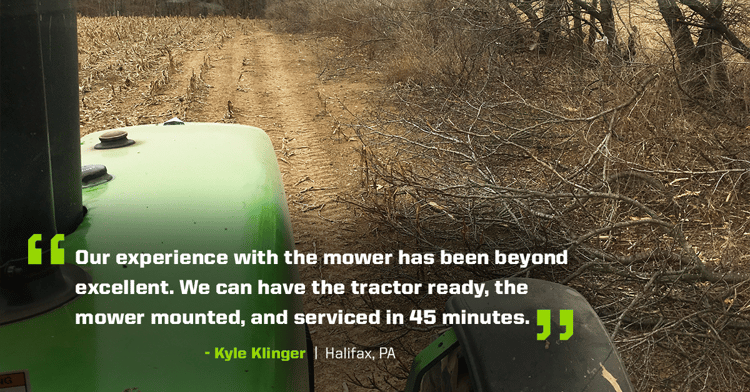 Diamond Mowers' customer, Kyle Klinger, of Lake Tobias Wildlife Park, shared his experience with Diamond's Tractor Attachments for vegetation management.
My Name is Kyle Klinger, and I work for Lake Tobias Wildlife Park in Halifax, PA. I am the Assistant Farm Manager as well as the main equipment operator.

We have a 3-point 20' heavy-duty boom with 50" rotary mower head mounted to a 4255 John Deere tractor.

"Our experience with the mower has been beyond excellent. We can have the tractor ready, the mower mounted, and serviced in 45 minutes."

One reason we went with a 3-point mounted mower is flexibility to have the tractor available for other fieldwork throughout the year. Usually, in the fall after harvest, we will mount the mower and use it throughout the winter to trim fence rows and banks around the properties. It makes trimming fence rows in the cold and snow a lot easier and faster. Depending on the density and size of the trees and brush, I can cover between a half-mile to a mile and a half of fence rows in an 8-hour day.

Another main reason we purchased the boom mower was to trim a steep bank along a runway. It used to take multiple people several days navigating this dangerously steep bank with chainsaws and pole saws to trim the Sumac and Ailanthus trees. With the Diamond 3-point boom mower, it is taken care of in less than an 8-hour shift.

We use the mower on a multitude of brush and trees - mainly Ailanthus, Black Locust, and Sumac that grow rapidly every year. The Diamond boom mower handles them with no problems.

Our experience with Diamond Customer Service has been great! I haven't had much downtime with the mower, but when I needed to order parts over the phone, the service was excellent. The team member I talked to was very friendly and helpful, and the parts arrived at the shop within 72 hours as advertised.

I would strongly recommend a Diamond Mower to anyone looking for a strong, well-made machine. The simplicity and heavy-duty design of the equipment is above and beyond. Knowing what I know now about this machine, I am ready to try their other products!
---