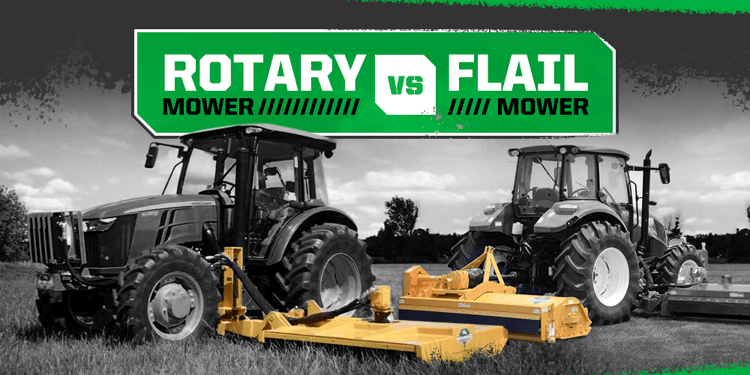 Most people think all mower attachments are the same, but that couldn't be further from the truth. There is a wide range of cutting attachments that can be used with skid-steers, tractors, wheel loaders, and excavators, and each is designed to work best in specific situations. Two particularly popular types of Diamond Mowers cutting attachments are flail mowers and rotary mowers.
When selecting a brush cutting attachment, many consumers are unsure of which type to choose - or think the two are interchangeable. However, these attachments are designed differently and are best used in different cutting conditions.
Flail vs Rotary Mowers: The Basics
To better understand the difference between a flail mower and rotary mower, you must first understand the basics of how each works. While both can cut through brush and grass, they are designed differently, which lends to the different cutting properties of each attachment type.
Rotary Mowers
Also known as brush hogs, rotary mower attachments are designed similarly to household lawnmowers, but bigger. They are best used to clear overgrown grass or brush, fast.
Rotary Mower Attachment Heads can slice through brush by sucking it upward and cutting it with horizontally spinning blades. The key difference between rotary mowers and household lawnmowers is that rotary mowers do not have sharp blades. Instead, typical rotary mower attachments for heavy-duty use feature blades that are large and thick for clearing overgrown brush. Because these blades are rough, they are designed more for power than for a clean cut. Rotary mowers are typically hydraulically powered.
Flail Mowers
Flail mowers have a significantly different design — the mower cuts with knives attached to a long shaft. Flail mowers are ideal for cutting down grass for a finished look.
The individual knives within a flail mower attachment are typically Y or T-shaped blades that spin around the shaft, clearing grass as the shaft runs parallel over a surface. The shredded biomass is then evenly distributed over the width of the mower and left behind as it moves to the next section, leaving behind a thoroughly manicured surface. Flail mowers are typically powered by a PTO drive or hydraulically driven.
Flail vs Rotary Mower: The Cut
When choosing a rotary mower or flail mower, one of the first things to consider is the type of project(s) you will be working on. With their diverse design, flail and rotary mowers work best at cutting different kinds of vegetation, though both can be used on brush and grass to varying extents.
Rotary mowers, with their heavy, high-powered blades, are particularly good at clearing brush, grass, and trees that may be overgrown. The thick blades can cut through saplings and dense vegetation very easily but can send debris flying. Rotary mower attachments can be used on grass, though it will provide an uneven cut due to the dullness of rotary mower blades.
Alternatively, flail mowers are great at providing a thorough, clean, and well-manicured cut for grasses. These machines are ideal for trimming and manicuring large grassy areas since the flail knives chop up and mulch plant life thoroughly. Simultaneously, flail mowers evenly spread the mulch over the manicured area, returning nutrients to the soil.
Flail mowers can be effective at cutting brush though they can take significantly longer to catch and mulch the brush. These, however, are not ideal for being able to clear brush and trees, though they can be used to a limited extent on very young saplings. Some flail mowers however, such as Diamond's heavy duty boom mounted flails are equipped with heavier duty knives, are specifically designed for brush cutting, and can equal the rotary mower's brush cutting effectiveness.
The Size of the Cut
The cutting width of a rotary brush cutter versus a flail brush cutter is also significantly different. In this category, you should also consider the speed of the cut and the presence of any flying debris.
Rotary brush cutters tend to have a shorter cut width than typical flail brush cutters but cover a comparable surface area because of their greater depth. Rotary cutters also move faster over their cuts than flail mowers. Since rotary cutter attachments are lighter and faster, they clear a greater area over time than a typical flail mower.
The trade-off here is that rotary mowers are less flexible than flail mowers, so they tend to get damaged by rocks and other landscape features. They also kick up much more debris than flail brush cutters and tend to leave uneven trimmings behind when used to cut grass, which can harm the quality of a field.
Alternatively, flail brush cutters tend to have larger cut widths than rotary brush cutters, with cutting shafts ranging from 38 to 102 inches in width. Some triple-gang flail mowers come with attachments that increase that width to over 200 inches. However, this increased area comes at the cost of speed — since the flail mower is heavier and takes more time to thoroughly cut plant life, it moves slower.
High Flow or Standard Flow?
The final factor to consider when comparing a flail mower and a rotary cutter is the flow rate and/or horsepower capability of the tractor, excavator, wheel loader, or skid-steer. The needs of each machine will determine if an attachment will work with any equipment you already own, or if you will need to purchase new equipment to work with your mower of choice. Rotary brush cutters are highly versatile by nature, as they come with motor options to match either a standard or high-flow machine. On the other hand, the flail mower is a much more specialized attachment that requires certain machine capabilities. High-flow hydraulic machines are typically required to run a flail mower.

Contact Your Local Diamond Mowers Dealer Today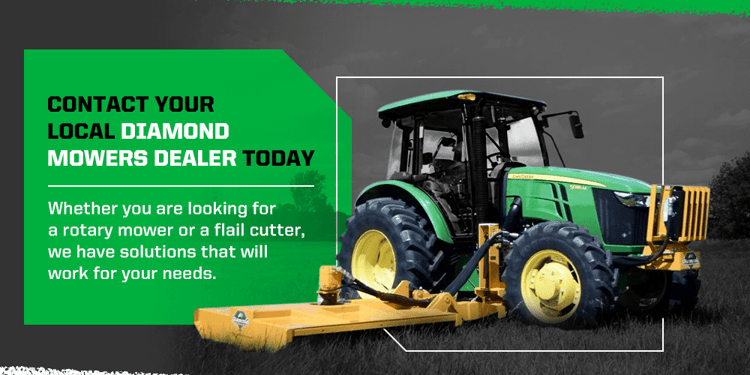 Diamond Mowers offers a range of top-quality cutting attachments for a wide variety of tractor, skid-steer, wheel loader, and excavator brands. Whether you are looking for a rotary mower or a flail cutter, we have solutions that will work for your needs.
Learn more about what Diamond Mowers has to offer by browsing our selection, contacting us online, or finding a dealer near you.