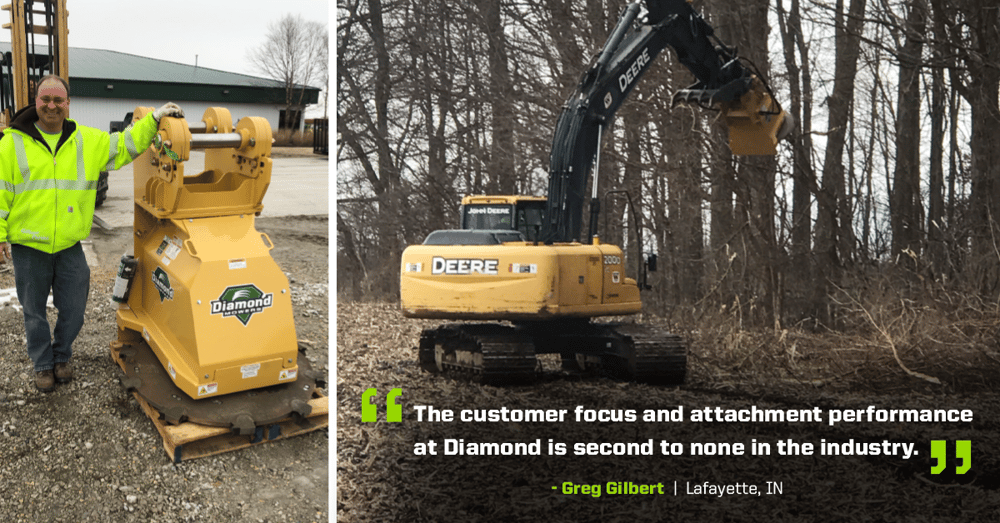 Diamond Mowers' customer, Greg Gilbert, shared his experience with Diamond's Excavator Forestry Disc Mulcher for vegetation management.
My name is Greg Gilbert, and my wife Natalie and I are the owners of Gilbert Farms, located in Lafayette, IN. Gilbert Farms is a 4000-acre corn and soybean farm producing grain that is further processed into Biodiesel, Ethanol, and Soybean Meal. Our team consists of mainly family (Myself, Wife, Dad, & Uncle), two full-time employees, and a couple of part-time seasonal workers.
Both the Diamond 48" and 36" Excavator Forestry Disc Mulchers were added to the Gilbert Farms fleet of equipment to eliminate manually trimming fencerows back around our farm fields via bucket truck, chainsaw, wood whippers, and an army of manpower. What would have taken weeks of trimming back unwanted vegetation around farm fields has now become a painless task from the seat of an excavator cab, taking only a day or two and without any need for a woodchipper and burning piles for cleanup.
We mainly utilize the forestry attachments for trimming back fencerows, edges of woodlots, and ditch banks. The vegetation consists of unwanted Honey Suckle, Mulberry, and Hackberry Trees, ranging in diameter from 1" to 12". We have been able to trim back most overgrown fencerows 5 to 20 feet, gaining acres and reduce overhanging limbs that rob corn yield by shading, as well as damaging farm equipment.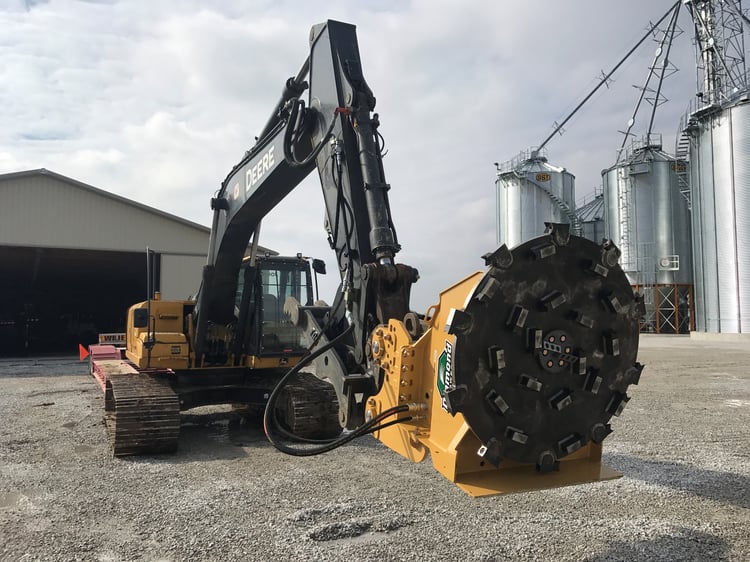 I would recommend Diamond Mowers to another farmer, landowner, or utility company. The products are well designed, built for quality, and have outperformed all my expectations. When they say, "It's the closest thing a tree will come to a Shark Attack--that is exactly Spot-ON with a Diamond Excavator Forestry Disc Mulcher!"
The customer focus and attachment performance at Diamond is second to none in the industry. Diamond has engineered and built a quality forestry head that utilizes a "Standard" Excavator, with minimal modifications for high performance for clearing unwanted brush on the farm.