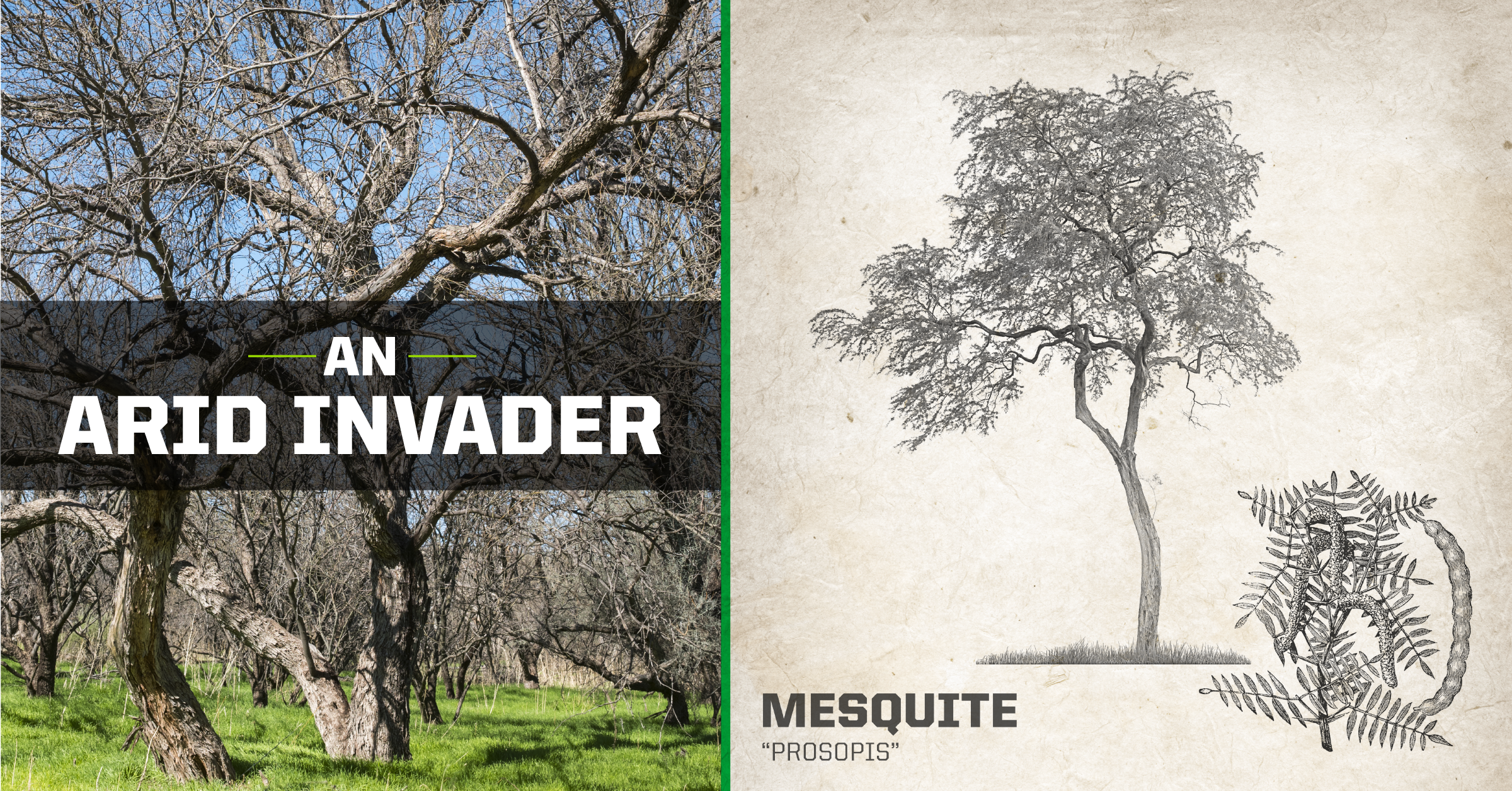 Mesquite trees are some of the worst invasive species on the planet known as "the devil with roots". This arid invader of water is a problem for many ranchers and producers in the southern and southwestern regions of the US.
Why Is Mesquite Invasive?
Mesquites are heavy water consumers. A single tree can consume nearly 21 gallons of water per day. Mesquites absorb groundwater and lower the water table effectively causing surrounding vegetation to die off, making it able to thrive and spread.
It is considered the most common pest plant in Texas. Almost a quarter of Texas grasslands are infested with Mesquite. The range of Mesquite covers nearly 2.5 million acres of land across the US and Mexico, extending from Northern Mexico, all the way through Kansas.


Honey and Velvet Mesquite
The most problematic types of Mesquites in the US and Mexico are Honey and Velvet. These plants are:
20-30 feet tall

Thorny in nature

Spread rapidly - Cattle consuming Mesquite beans contribute to the rapid spread

Native to arid and semi-arid regions, this tree is capable of thriving in most conditions. Mesquite has the ability to grow a tap root 200 feet down, and roots that spread and search for water up to 50 feet outside the tree canopy. These features not only enable Mesquite to survive in areas other trees will not, but also choke out surrounding vegetation.
Mesquite spreads by seeds in the tree's fruit pods, which can contain 10-30 seeds and can lay dormant in the soil for several years, creating opportunity for seeds to spread for many years.

How do you control Mesquite?
Mechanical Control with Diamond's Forestry Disc Mulcher
This invader can be tamed or even eliminated with the correct equipment and land management practices. The use of mechanical control to rid land of Mesquite is the first step in the process.
By using the Diamond Forestry Disc Mulcher, you not only get rid of tree and shrub, but also create a bed of mulch that spreads across the ground. This helps retain surface moisture and restore grass that was starving.
Follow mulching up with a chemical applied to the tree stump, and you will effectively kill Mesquite trees. If you prefer not to use chemical application, additonal cutting will be needed to clean future regrowth from cleared tree stumps.
To learn more about Diamond's mechanical solutions, visit https://diamondmowers.com/pages/skid-steer-attachments.
Watch how you can control Mesquite trees with a Diamond Skid-Steer Forestry Disc Mulcher: