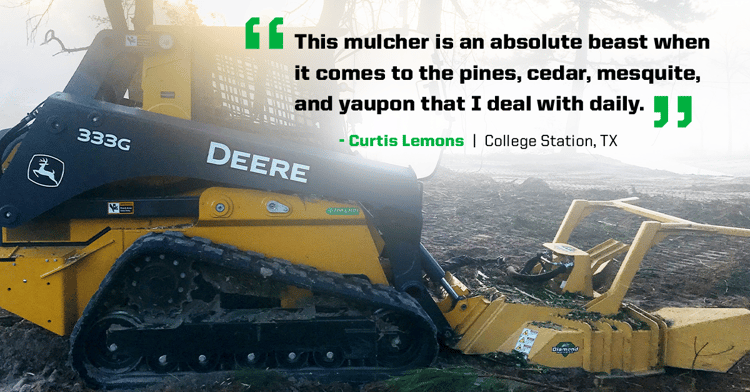 Diamond Mowers' customer, Curtis Lemons, shared his experience with Diamond's Skid-Steer Forestry Disc Mulcher for land clearing and vegetation management.
My name is Curtis Lemons, and I am the Owner/Operator of 1st Choice Mulching and Land Services located in College Station, TX.

I currently run a John Deere 333G with the 60" Diamond Skid-Steer Forestry Disc Mulcher. On an average day, I'm clearing property lines, shooting lanes, ROWs, or under brushing property.

"This Diamond Forestry Disc Mulcher is an absolute beast when it comes to the pines, cedar, mesquite, and yaupon that I deal
with daily. "

I can cover a lot of ground and move about as fast as I want. This is the first mulcher that I've ever owned. When I started my business back in January 2019, I wasn't sure what I wanted. I asked around and kept hearing that if you want the best, buy
a Diamond.

When it comes to customer service, you can't get better than the guys at Diamond Mowers. They're always friendly and helpful on the phone and get my parts out to me on time.

If anyone is in the market for a mulching head, look no further than Diamond!
---