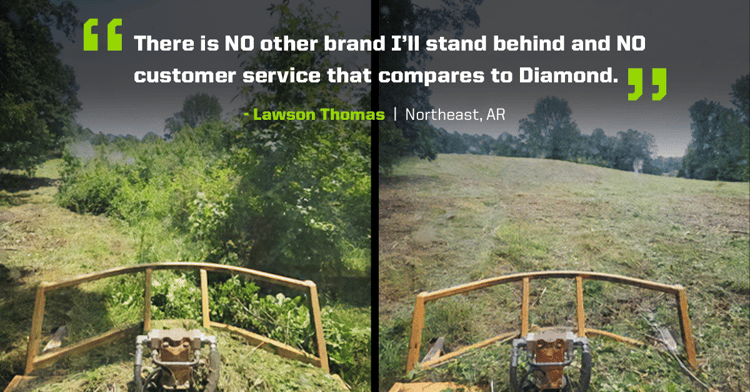 Diamond Mowers' customer, Lawson Thomas, shared his experience with Diamond's Skid-Steer Disc Mulcher and Rotary Mower for reclaiming property and use in vegetation management.
Name: Lawson Thomas
Location: NE Arkansas
Owner/Operator: Ground Designs LLC. We do anything from small dirt work, driveways, to reclaiming property that's not been accessed in yrs.
Skid-Steer: Bobcat T770 CTL
Diamond Mowers Equipment: 72" Rotary Mower and 60" Disc Mulcher
Over many years, I've used different brands of brush cutters and mowers. However, I recently bought two Diamond Mowers attachments for my Bobcat T770 - the 72" Rotary Mower and 60" Disc Mulcher.
The first job for the Rotary Mower was reclaiming 25 acres of pasture that was overgrown with sweet gum, pine, and large areas of thick brush. The job that the mower did set my phone on fire! People were calling me, wanting ditch banks and food plots cleared up. I was receiving calls for jobs as far as the Ozarks - which I have taken on since!
The jobs in the Ozarks have limestone-type terrain and have mostly hardwoods, such as hickory, red oak, persimmon, and cedar groves. All of which are cleared with single pass-over method.
If you've ever bought used equipment, you know that there can be some minor upgrades/updates needed over time. The Diamond crew has always been just a phone call away. Their Customer Service and Parts teams have been very helpful with getting replacement parts and providing advice for preventing downtime.
In short, there is NO other brand mower and mulcher I'll stand behind. There is NO other Customer service that compares to the Diamond Mowers. They truly do "Demand Brilliance."
"Go reclaim your place in this world with Diamond Mowers!"