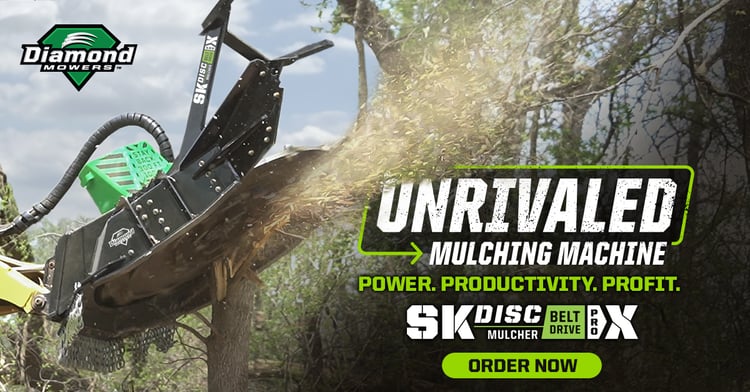 THE MOST POWERFUL & PRODUCTIVE DISC MULCHER!

Jump to:
Engineered for maximum use and constant productivity, this game-changing Belt Drive Disc Mulcher outpaces, outpowers, and outclasses anything on the market and is designed to work as hard as your customers do. That's what operators get with the new Belt Drive Disc Mulcher from Diamond Mowers, a leading manufacturer of mowing, mulching, and brush-cutting equipment for the municipal, skid-steer, and excavator markets. Engineered for maximum use and productivity, this powerful attachment features increased torque to obliterate anything in its path without slowing down.
"Reinforcing Diamond Mowers' reputation for building a first-rate mulcher, this game-changing attachment outpaces, outpowers, and outclasses anything else on the market," said Dan Stachel, executive vice president of Diamond Mowers. "Because we know that time is money and productivity drives profitability, we designed this machine to work as hard as the people who use it."


13 SECOND SPOOL-UP TIME
Prove it? Our market-leading Piston 125cc motor spools to full speed in ~40 seconds. The Belt Drive reaches full speed in ~13 seconds!
Engineered for professional mulching contractors and other high-volume mulchers in land clearing, vegetation and forestry management, and pasture reclamation, the new Belt Drive Disc Mulcher couples a belt drive with a two-speed hydraulic motor to increase torque and disc speed, allowing users to take full advantage of the mulcher's potential. To ensure that productivity never wanes, the disc speeds up during re-processing and back-dragging, meaning operators can finish the job in less time. The belt drive system acts as a torque multiplier that prevents the machine from slowing down when slicing through large materials and enables it to recover quickly. Furthermore, an AR 400 bolt-on replaceable liner helps to reduce abrasion on the shell from thrown materials.
"Based on our testing, this new Belt Drive Disc Mulcher delivers torque values 2-3 times higher than the industry has ever seen," added Stachel. "It also spools up 2-3 times faster than Diamond Mowers' previous top-tier 160cc motor for 20%-30% more productivity."

GET TO KNOW THE EQUIPMENT
Beyond its industry-leading power, the Belt Drive Disc Mulcher features enhanced forward visibility to ensure operators do not hit rocks and can better position the head on trees. Its efficient design also promotes lower hydraulic temperatures for exceptional efficiency and durability.
"Increased performance has historically come at the expense of overheating," explained Stachel. "The efficient design of this new attachment actually reduces hydraulic oil temperatures compared to other disc mulchers, allowing operators to work longer in hot weather without the downtime associated with overheating."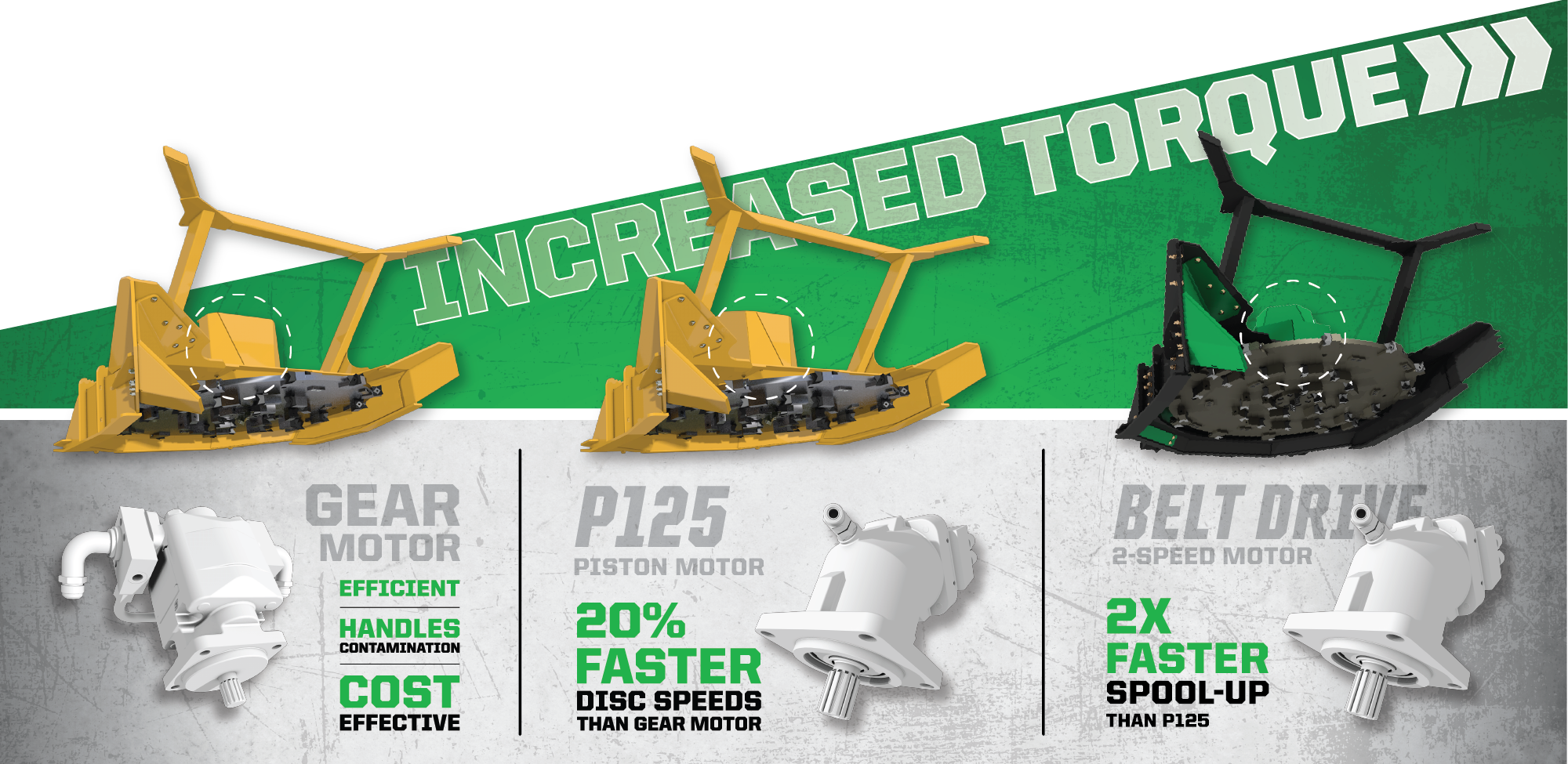 Diamond Mowers' new Belt Drive Disc Mulcher is available in a 60" cutting width to slice through trees and brush up to 14" in diameter and mulch material up to 6". It attaches to large frame skid-steer and compact track loaders and is paired with a 107cc variable displacement bent axis piston motor to match its hydraulic flow of 32-50 GPM. While Diamond's Four-Point Hardened Steel Teeth come standard, users can swap them for Twin Maul® Carbide Teeth to absorb impact and ensure the right bite for every application.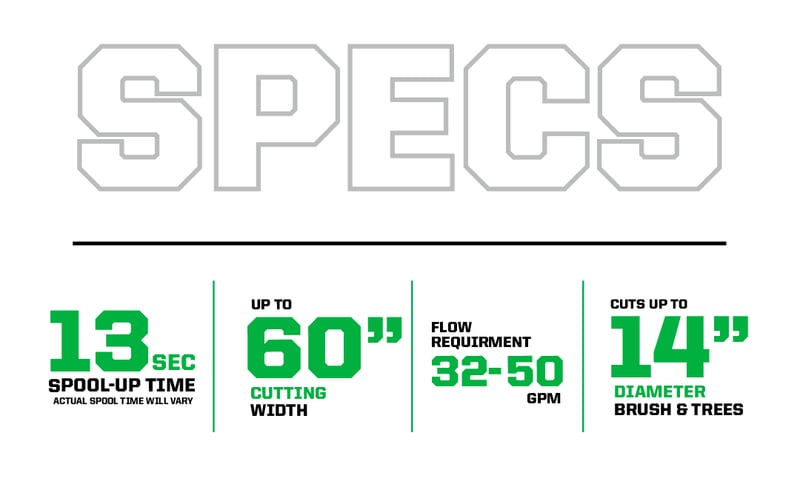 WARRANTY & CUSTOMER SERVICE
Like most Diamond Mowers' products, this new attachment is backed by a one-year warranty. Additionally, customers have access to the company's industry-leading customer service resources, including an experienced team of care experts and a dedicated parts team readily available to address any needs that may arise.
"Our customer-centric approach is built around improving processes and introducing new solutions to better serve their needs," explained Stachel. "By continuously innovating our products, we can assure that our customers' jobs will be easier, more productive, and more profitable than before."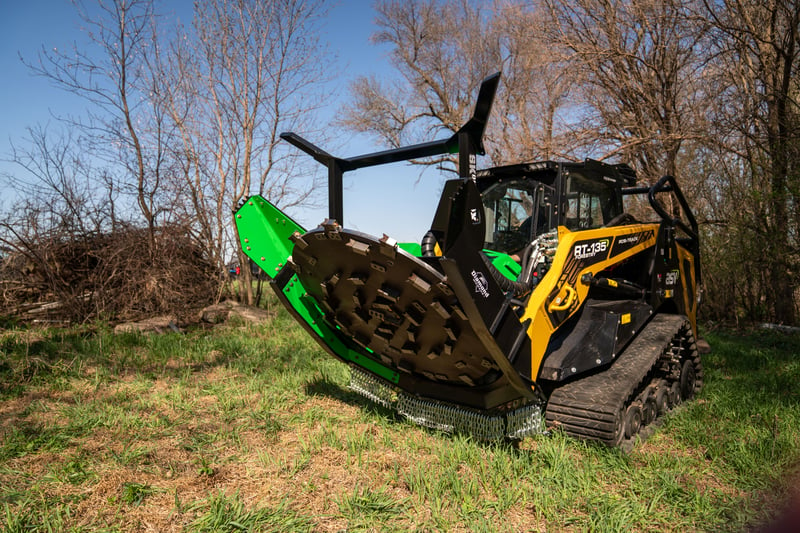 ---
Diamond Mowers offers a wide range of specialized cutting attachments compatible with most skid-steer, tractor, wheel loader, and excavator brands. For more information, visit www.diamondmowers.com.