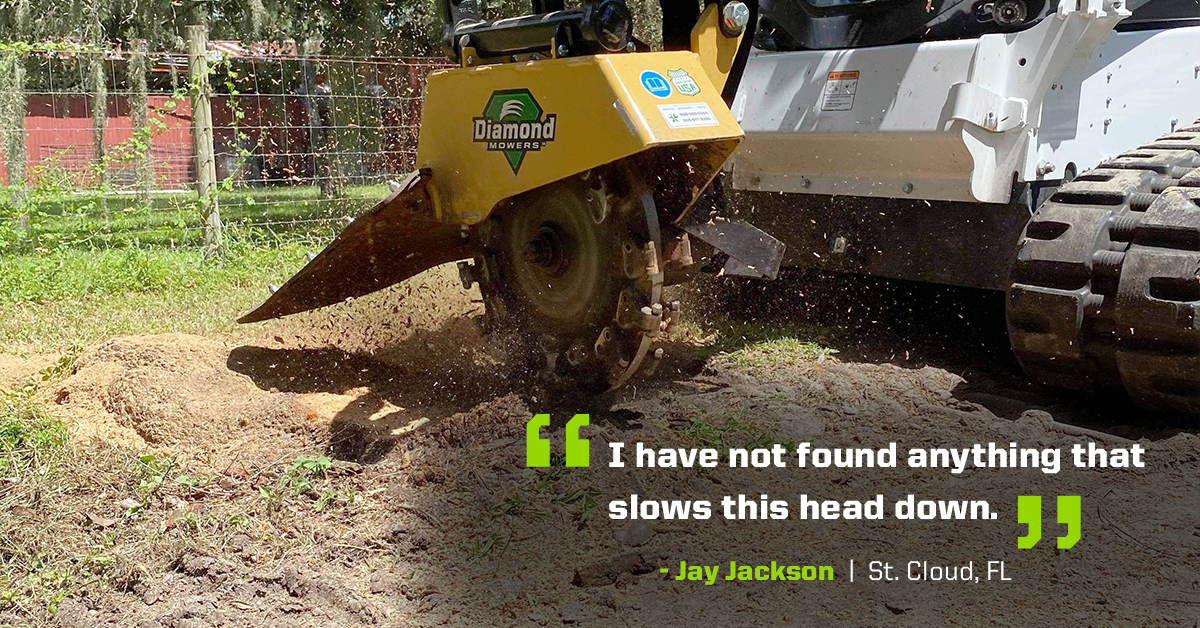 Diamond Mowers' customer, Jay Jackson, Founder/President of Specialized Land Solutions, LLC., shared his experience with Diamond's Skid-Steer Reflex Stump Grinder for vegetation management.
My name is Jay Jackson. I'm the founder and president of Specialized Land Solutions, LLC, which I own and operate out of St. Cloud, FL. My company does forestry mulching, land clearing, grading, excavation, and landscaping work.

I am a one-stop-shop for homeowners. A good example of the type of work I do is recently I was hired for mulching and root raking in a residential backyard. The homeowner had just purchased a new house on a lot that was 3/4 of an acre. The only problem was only about 1/4 acre was usable. When I was clearing the yard, I discovered nine stumps hidden in the brush. The homeowner stated he needed to hire someone to grind the stumps down and get some dirt filled. I told him that I did both of those things and he hired me back to complete everything he wanted done with his yard.

Before I purchased a Diamond Mower Reflex Stump Grinder, I would have to either pass on the work, rent a machine, or hire someone to complete the job. Either way, I was losing money. After some research on stump grinding options online, I settled on getting a stump grinding attachment for my skid-steer.
Being a single employee business, I need to maximize the amount of work I can get done. I did not want the hassle of hauling multiple machines around, and I already have my CTL on all my tree jobs to pick up the trees. It made sense to get an attachment I could bring with me and not take up too much space.


I looked at the different stump grinders and selected the Diamond Mowers Reflex Stump Grinder for a
few reasons:
The compact design of the unit.
Ability to use close to a fence, house, or shed.
Allows me to bring my large CTL with a stump grinder and get into tight spaces.
Ability to grind close to objects due to the Reflex Stump Grinder being perpendicular to the machine.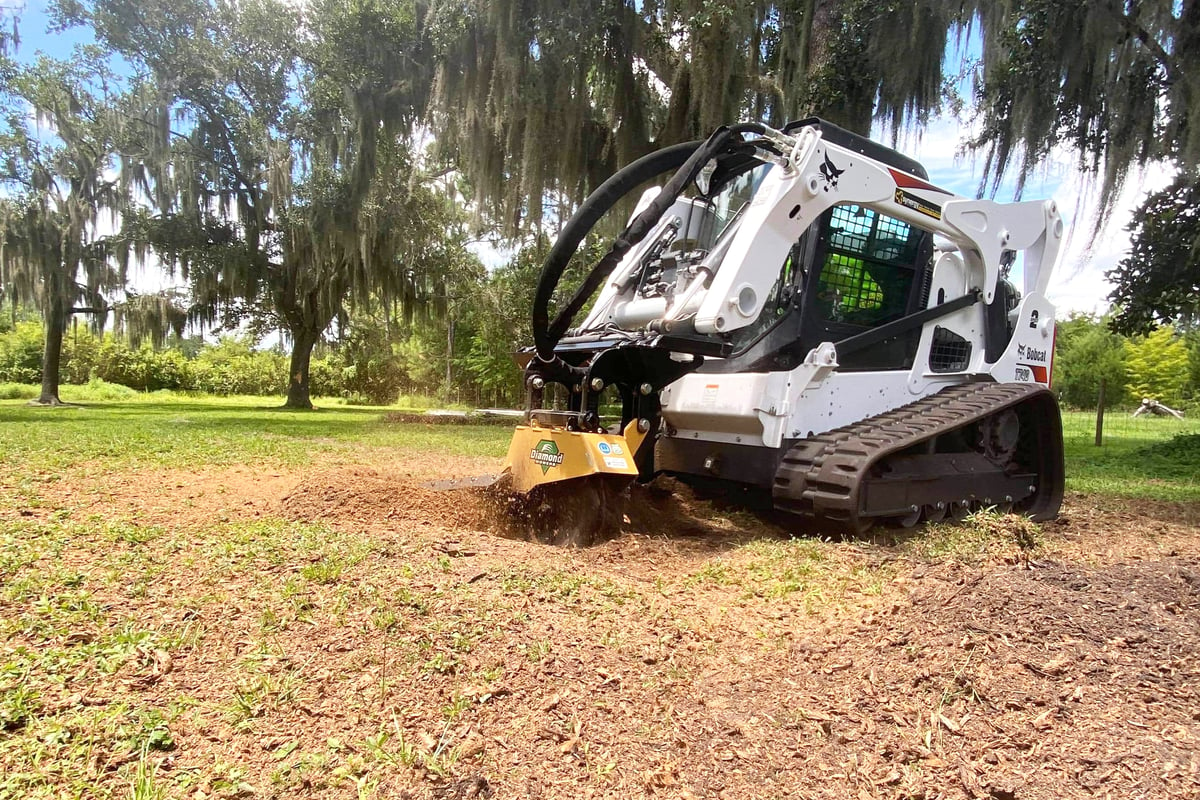 I called up my local Diamond Mower dealer here in central Florida - Ring Power CAT. From the time I first called about a quote, until I picked the attachment, it was less than a week in total. That was exceptional service, especially during the height of the COVID -19 quarantine.

I originally wanted to purchase a brand-new unit but there would have been a 3 to 4-week delay to obtain one. I was offered a unit that had been used on a demo, which was available immediately. Diamond trusts their products; they offered me the same benefits on the demo as a new unit - including warranty. I feel this goes to show that Diamond stands behind what they make.

I picked up the Reflex Stump Grinder from the dealer and drove straight to a job with it. I lifted the unit off the pallet and immediately ground five stumps. This was the first time that I had operated a stump grinder off of a CTL.
"I have not found anything that slows this head down."

I was surprised at how fast the Reflex Stump Grinder ground through the stumps. I have used this on large pine trees, oaks, Brazilian pepper trees, and I even tried it on some palmettos. I have not found anything that slows this head down.

I would recommend a Diamond Mowers Reflex Stump Grinder to anyone looking for a stump grinder. I have been amazed at the customer service that Diamond has provided. The next time I'm in need of an attachment for vegetation management, I will look to Diamond first!