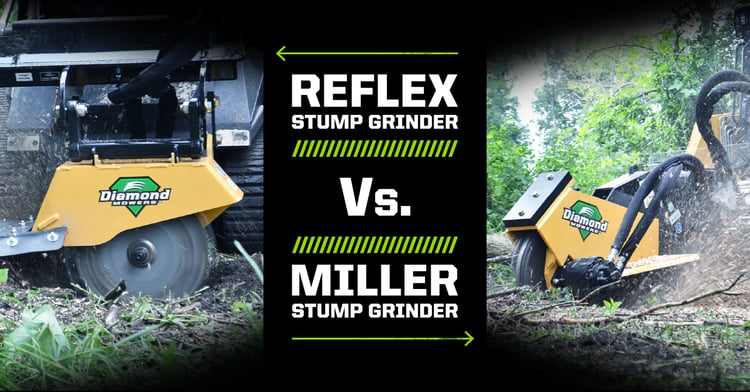 Stump grinders are a vital tool for tree care professionals, landscape contractors, and landowners looking to remove tree stumps from their property. But which type of grinder will deliver the best results? As with all equipment, choosing the correct stump grinder starts with understanding the different features and functions and the intended use and application.
Diamond Mowers offers two types of wheel-based stump grinders commonly available as skid-steer attachments that offer a range of solutions for various needs. The Reflex Stump Grinder is a simple, strong, and cost-effective attachment with premium components for optimal performance, while the Miller Stump Grinder offers a diverse range of functions for stump clearing operations at a lower price point than a self-propelled unit.

Each machine comes with its own advantages and is designed for different functions. So, let's review the main differences and analyze the key considerations for selecting the right tool for your specific job.


Reflex vs. Miller
To better understand the difference between a Reflex and Miller stump grinder, it's important to understand the basics of how each works. Both machines feature high-torque radial piston motors and 1" thick grinding wheels for smooth cutting. Carbide teeth on both sides of the grinding wheel allow for dual direction cutting and maximum productivity. Both options are equally capable of grinding tree stumps below ground level and attach easily to any skid-steer or compact track loader (CTL). Each type of stump grinder is designed and operated much differently.

Operation & Applications
A great choice for rental yards, land clearing operations, rural grinding applications, and tree farms, the Reflex Stump Grinder uses the skid-steer's lift arm to position its heavy-duty wheel in the stump before driving it through the wood with the machine's wheels or tracks. This easy-to-operate grinder is equipped with a patented cushioning device that protects the wheel from too much pressure, alleviating overload by flexing and keeping the wheel out of harm's way. Grinding wheels are available in 24" or 26" cutting widths and are paired with an appropriately sized motor to match the hydraulic flow of the machine (GPM).

By contrast, the Miller Stump Grinder allows the operator to cut stumps up to 36" in diameter without ever moving the carrier, but anything larger than that will require repositioning the loader. The 26", 6-way grinding wheel features swing, lift, and telescoping functions that allow operators to process a stump while the loader is parked in one position, reducing the risk of soil or turf damage, and making it an ideal solution for arborists or contractors with discerning customers. This option also features a chain guard that helps to protect the grinder – and operator – from flying debris, along with a convenient push blade that effortlessly fills in holes created while clearing stumps below ground level.


Low-Flow vs. High-Flow Configurations
If you have bought skid-steer attachments before, you already know how crucial it is for an attachment to meet the hydraulic configuration of your loader. A high-flow skid-steer loader can command attachments that are more powerful than a low-flow skid-steer. Be sure to purchase a stump grinder that fits both your machine and the power needs of your project. Diamond's Reflex model is compatible with both low- and high-flow hydraulic machines, while the Miller Stump Grinder is designed exclusively for use with high-flow skid-steer loaders only.


Maintenance & Parts
As with all types of equipment, it is important to follow the manufacturer's recommended guidelines related to maintenance requirements and service intervals. Examine your stump grinder's cutting teeth daily and be sure to replace any damaged components. Failure to do so can cause additional deterioration to tooth holders, adding cost and downtime. Keep in mind that Greenteeth™ can easily be rotated 180° to increase lifespan and efficiency.

Diamond sells stump grinder teeth individually, as well as complete kits. It's ideal for an operator to keep extra teeth and components on hand to prevent costly downtime, so that's why we offer a full line of Greenteeth(TM) and related holders. These offerings make replacing teeth a breeze and guarantee maximum productivity from your stump grinder with every use.
Contact Your Local Diamond Mowers Dealer Today
Diamond Mowers offers a wide range of specialized cutting attachments compatible with most tractor, skid-steer, wheel loader, and excavator brands. For more information, visit us online or find a dealer near you.