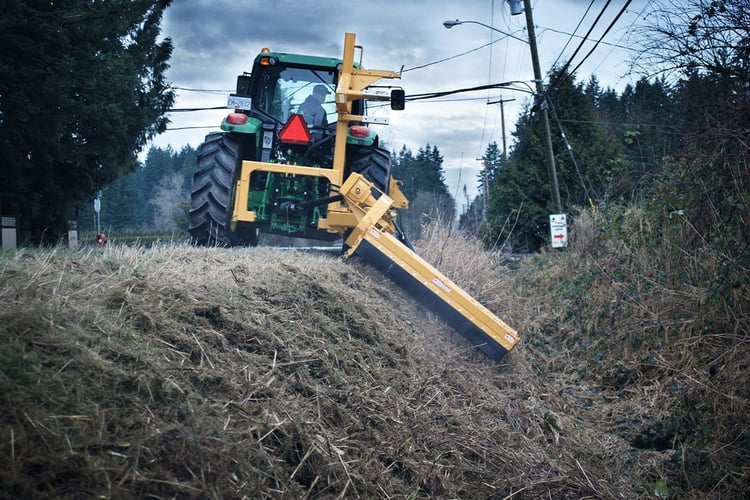 The Rear Swing Flail Mower is the ideal solution for many unique vegetation management applications.
Features & Capabilities
The Rear Swing Flail's unique features and capabilities make this mower extremely versatile for land management.
Swing flail mowers are equipped with a "swing arm" that allows the unit to swing out from behind and beyond the tractor's wheels. This allows the mower to maneuver and reach into places side flails, boom flail and rotary mowers cannot reach or fit. It can articulate downwards 50 degrees, which is ideal for ditches, banks, and other steep inclined terrain. Additionally, it can also be positioned upwards to mow at a 90-degree angle, reaching trees, hedges, and other taller vegetation.
An important feature of Diamond's swing flail is the break-away feature built into the swing arm, allowing the head to bend around obstacles and obstructions.
Applications
A Rear Swing Flail mower is ideal for road and irrigation ditch maintenance, hedge, hillside mowing applications, pond or other shore maintenance. They are also used in other unique land management applications such as orchards and vineyards.
Swing flail mowers can perform some of the same duties as a boom-mounted flail, without the requirements usually associated with a tractor-mounted boom mower, such as cutting overhanging tree branches and steep inclined ditches.
Diamond's Rear Swing Flail easily mounts to the tractor's rear 3-PT hitch and is PTO driven.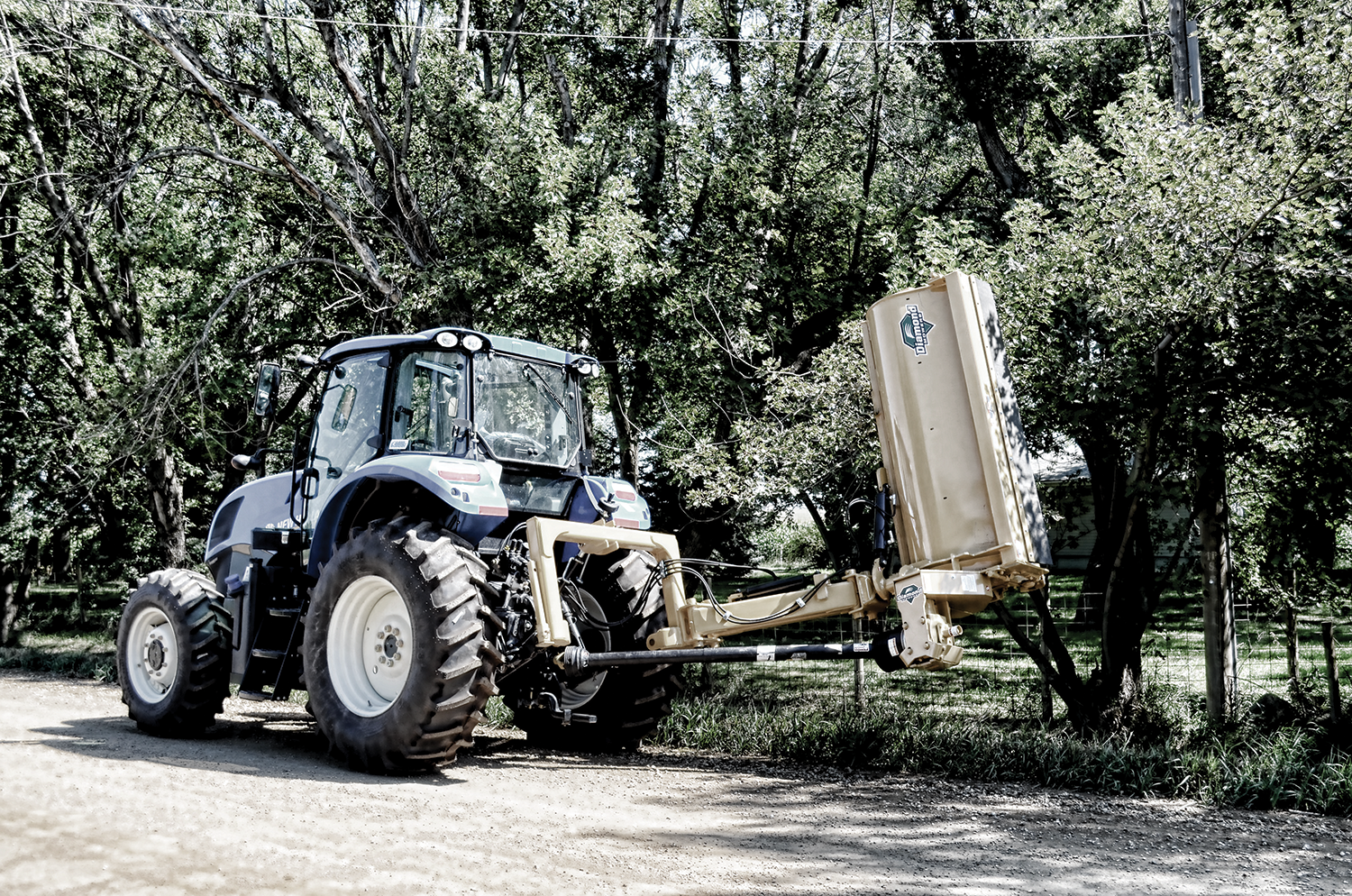 Benefits
Flail mowers provide a smooth, manicured finish while still highly effective with heavier, larger brush. It mulches and redistributes the cut vegetation evenly under its flail design, a benefit for the vegetation being maintained.
The flail mower comes equipped with cutting knives and are easy to change, should one become damaged by rock or other harmful debris.
Rear Swing Flail mowers can be operated closer to areas sensitive to damage (houses, fences, etc.) because of their safer operation characteristics, as the cut vegetation and debris are ejected downwards and not outwards.
Diamond's Rear Swing Flails can operate in both forward or reverse rotation, allowing even more versatility in matching the mower to the cutting conditions, terrain, and vegetation characteristics. Forward rotation efficiently cuts heavier brush, while reverse rotation helps with a cleaner, more manicured cut.
Requirements
Rear Swing Flails have only a few basic requirements to be used effectively.
Swing flail mowers generally have a minimum horsepower rating they must meet when choosing the appropriate tractor to carry and power it
Diamond swing flail mowers require a tractor equipped with a 540RPM PTO drive and capable of a minimum of 75 horsepower from the tractor's PTO drive
Swing flails are heavy, so the tractor chosen to carry and power it must have a 3-PT hitch, sufficient lift capability, and weight to counterbalance the mower
Diamond swing flail mowers require the tractor to be equipped with a category II type 3-PT hitch and weigh a minimum of 9,500 lbs, not including wheel weights