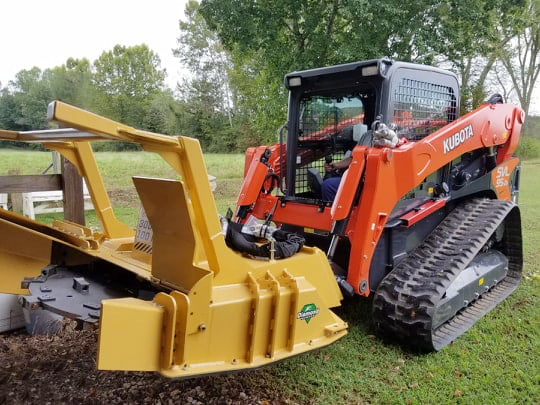 Diamond Mowers customer, Ricky Fullard, in Vale, TN wrote us to share his experience with his Skid-Steer Forestry Disc Mulcher for vegetation management.
My name is Ricky Fullard. I'm from Vale - a small town in northwest Tennessee. I'm a landowner and have about 400 acres and lease another 700 acres for farming
& hunting.

I'm constantly having to clear our land and make trails, as well as clean up field edges. In the past, I've always done clearing with tractors, chainsaws, and bush hogs, so I was in the market for something to make my life easier. Boy, did I find it with the forestry disc mulcher! The way it cuts brush & trees - I've never seen anything
like it!

This is the first piece of Diamond equipment I've owned and I'm glad I have it! Its ease of use is what I like the most. I also have excellent visibility to see what I'm doing. The work that used to take me all day in a tractor now only takes me an hour.

So far the customer service has been great! The salesman I dealt with during the purchase called and checked up on me after the sale, as did the Diamond parts department - which made me feel appreciated!

The only issue I've had with my attachment was a couple of the bolts that hold the skid shoes on came out. A quick call to Diamond and they sent some free of charge!

My whole experience with the forestry disc mulcher and Diamond so far has been top notch. I run it on a Kubota SVL95-2S, and it's like attachment was made for it!

I definitely recommend Diamond's products to other people I know! I'm already thinking about buying the new drum mulcher to have in my arsenal!
---