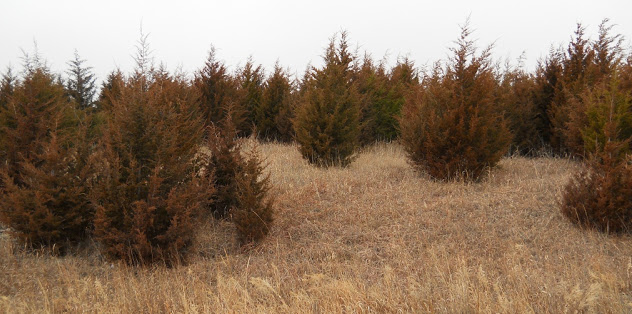 The Eastern Red-Cedar invasion poses a major threat to livestock producers and landowners across the central US, ranging from North Dakota to Texas.
To understand the consequences of preventing the cedar invasion, look at Texas, Oklahoma, and Kansas where livestock production and profitability has declined 75% in rangelands invaded by Eastern Red-Cedar.
This invasive tree has a variety of negative effects on a producer's land:
Rainfall Interception: More than 20% of rainfall diminishes due to the cedar canopy. This negatively effects soil temperature and moisture.
Water Consumption: Cedars can drink up to 30 gallons of water per day - water the native grasses need to stay alive.
Wildfire: Cedars contain volatile oils that are very flammable under the right conditions. A burning red-cedar has the ability to spread embers over several hundreds of yards.
The Solution: Mechanical Control with Diamond
There are a variety of solutions for removing the red-cedar, but many are high risk and not effective long term. Spraying and chemical control can kill non-targeted plants, and prescribed burnings can throw embers endangering the area.
The most effective solution is mechanical control. This can be accomplished effectively and efficiently with Diamond's Skid-Steer Rotary Mower or Forestry Head. Operators can cut trees up to 14" in diameter, mulch the material, and have the ability to grind stumps below ground level. Using this method prevents cedars from re-sprouting, making it a long-term solution.
Watch how you can control brush and trees with a Diamond Skid-Steer Mower:
Diamond Forestry Cutter Demolishing Thick Brush from Diamond Mowers on Vimeo.