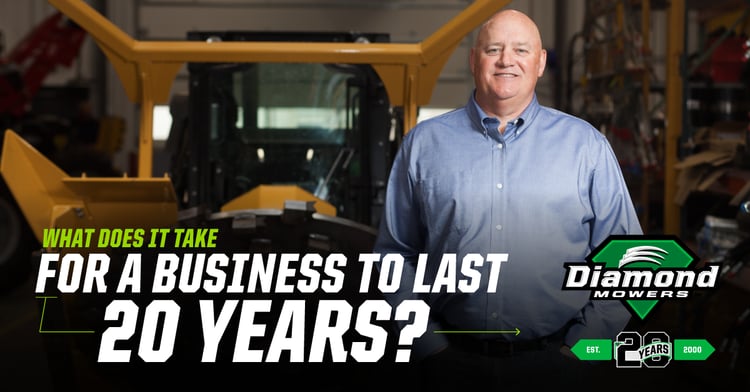 According to JP Morgan Chase, "51 percent of small businesses are 10 years old or less, and 32 percent of small businesses are 5 years old or less. Roughly a third of new businesses exit within their first two years, and half exit within their first five years." To last 20 years in the competitive landscape of American business is an accomplishment certainly worthy of celebration. The year 2020 marks the 20th year Diamond Mowers has been in business and there are a few notes on our path to this milestone worth sharing.
Keeping Customers Front and Center
Foundrymag.com states "The secret to long-term sustainable success is to do things with discipline and excellence. Leaders of enduring enterprises, both large and small, do more than just dream of success. They make their success a reality by taking the actions necessary to achieve it, and to make it last."
From day the doors opened, Bill Doyle, Sr. was steadfast in his commitment to exceptional customer service and an unwavering commitment to resolving issues. Being in the land clearing and vegetation management business, our equipment is subject to harsh conditions and when issues arise, Diamond stands ready to attend to whatever occurs to keep customers up and running. This practice is as true today as it was in 2000 when it all began.
Longevity at Diamond can be attributed to keeping customers front and center, designing products to meet market demands, careful and prudent financial management, and creating a team of professionals rallied round a set of specific core values as we come to work day after day.
Our values are not a marketing ploy but a construct that guides decisions by all members of the organization. It is the combination of all these factors that have enabled Diamond to not only survive, but to thrive and continue to grow.
The future at Diamond is predicated on global expansion and market leadership in all markets we serve. The Doyle family and the unwavering Diamond team over the first 20 has set the company up for success for years to come.