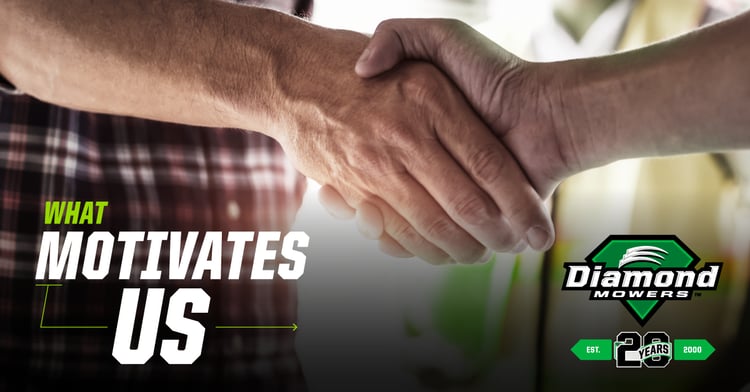 What motivates you? What are you passionate about? These are questions we commonly ask ourselves as individuals and in our work. Everyone who works at Diamond may have different passions and expertise, but one thing is shared at our core: finding solutions.
With excellence as one of our fundamental values, we continue to strive for effective solutions and continuous improvement in everything we do from internal processes to ensuring our equipment is the best solution for a customer.
TEAMWORK
How are solutions reached? Teamwork. Problems are not solved, nor are solutions implemented by just one individual; it comes from a group of people determined to achieve an end goal. The root culture at Diamond is helping one another, always lending a hand, and holding up the dedicated work ethic of the Mid-West, which makes coming to work rewarding.
"What I really like about the culture (at Diamond) is that everybody is honest and can be trusted. Everybody helps each other and wants to see the company succeed." – Paul Schreurs, Regional Sales Manager


CUSTOMER SERVICE
Since the day Diamond Mowers was founded, the focus has been on customer service and doing the right thing. Day in and day out, we are committed to providing exceptional customer service every step of the way, and with every interaction a customer has with us. If a customer runs into an issue, we work to find a solution.
What can be one of the ultimate rewards with our products? It would be seeing our customers succeed; succeed in finding an effective solution for their land management challenge, and even thrive in starting their own business with the products we offer.
"For me, seeing the impact of my work on people and businesses around me makes my job rewarding. When I see an entrepreneur start a business with products I helped create, and then build a relationship that is deep enough to watch that business expand, it is the ultimate reward." – Matt Nelson, Product Manager


WHERE DO WE GO FROM HERE?
As a company in the business for 20 years, the opportunities are still endless. We are continuously striving to innovate and find the best solutions for our customers. Every day we have a team of fiercely dedicated and talented employees working together to accomplish goals.
What we do know for sure in the next 20+ years to come - we will continue to find solutions and will continue to serve our customers with extraordinary service every step of the way.