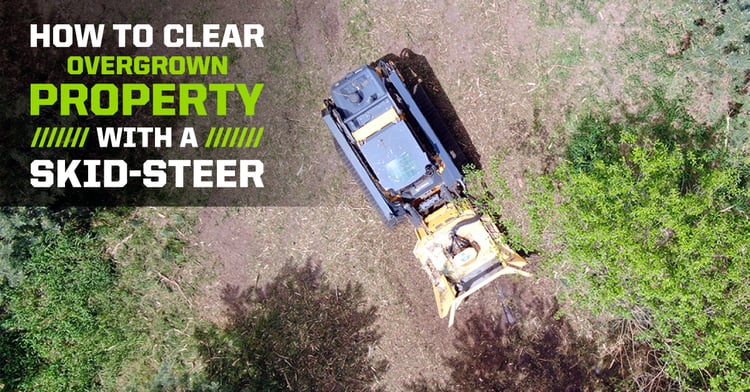 Do you have an overgrown property or need to clear land for a future development site? Land can become overgrown with brush and trees for a multitude of reasons. It has been a long-time belief that clearing land is only something that can be tackled by large contractors that have specialized equipment. This is not true – as skid-steers and heavy-duty attachments allow private landowners and contractors to take on land clearing jobs.

What Is Land Development?
Clearing an overgrown property can be tackled with a skid-steer or compact track loader (CTL) by leveraging vegetation management attachments. Skid-steers offer agility, speed, and flexibility due to their compact nature.
Land development or clearing is converting raw land into agriculture, construction-ready housing, commercial, or industrial building sites. Primary types of applications of land development consist of:
Changing landforms from a natural state for a purpose such as agriculture or housing

Subdividing real estate into lots, usually for building homes

Real estate development

Road construction

Landscaping

Setup of fences and hedges

Service connections to municipal services and public utilities

Drainage and canals

External lighting such as street lights

Tackling Jobs With a Skid-Steer
In recent years, the rise in popularity of skid-steers has inspired companies to develop brush cutters and mulchers that universally attach to almost any brand of skid-steer. This flexibility has allowed many private landowners and small contractors alike to take on the work.
Once you've decided to take on a land clearing job with a skid-steer – you will have to be prepared to come across various variables on the land you are working, such as:
Trees and tree stumps

Fence lines

Issues with utilities

Water issues

Rocks

Litter
You will be ready to overcome many of these obstacles by easily switching to a buck or other attachment and back quickly, which gives you the ability to reduce the potential for damage to equipment or surroundings before proceeding with brush or land clearing.

Heavy-Duty Brush and Land Clearing
Diamond offers a full line of skid-steer attachments to tackle your land clearing needs, which include:
Whether you need to prep a site for future development or maintain a park, tree grove, or fence line – turn to Diamond Mowers to get your land clearing job done.
You can purchase attachments from Diamond Mowers at your local dealer or by contacting us directly.