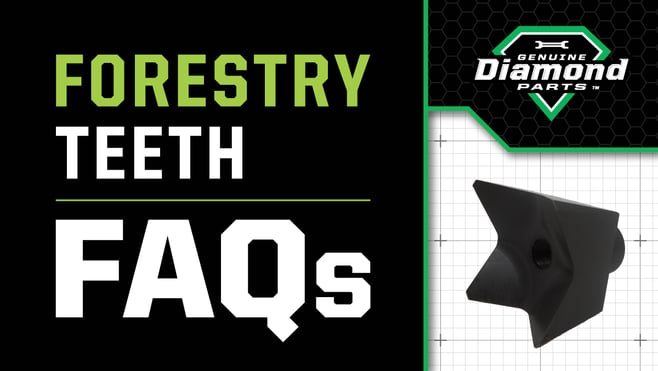 The Diamond Forestry Mulcher can be a productive and efficient tool for getting rid of problem vegetation. However, forestry teeth that are allowed to become dull or broken will reduce that efficiency and cost you time and money.
It's best to think of your Diamond Forestry Mulcher's teeth like an ax or a chainsaw chain. Both work best when they are properly maintained (often daily) and kept sharp. A dull ax or chainsaw requires much more effort to cut through wood and wasting time. Attempting to mulch with teeth in poor condition is not only unproductive, but could cause damage to tooth holders, spindles, and motors.
To address this, Diamond has included with each operators manual, instructions on proper tooth maintenance. For those of you who are a little more visual, we also have a video available to demonstrate the proper sharpening and rotating techniques. No matter which you prefer, these materials will show how to sharpen your teeth using an angle grinder with a flap style wheel to sharpen and restore the "points" of the tooth for greatest efficiency while mulching.

Through more testing and research, we now know that you should only sharpen on the inside cupped side of the tooth and never on the outside to prolong the life of the tooth.
As always, Diamond is dedicated to our customers and want to help you succeed by being as productive as possible.
For questions, contact Diamond Mowers' Customer Service Department at 888-960-0364