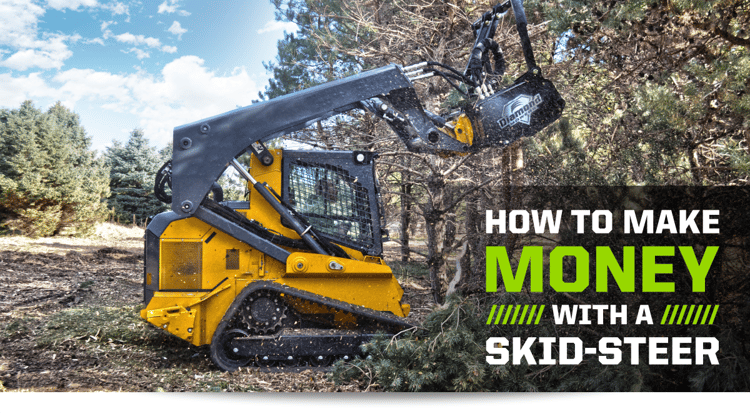 There are many ways to make money with a Skid-Steer or Compact Track Loader (CTL). There is the typical "hook on a bucket and start moving dirt" type of work, or hauling rock, or just general material handling. This is the arena Skid-Steers started and has saved contractors countless trips with a wheelbarrow and shovels.

History of Skid-Steers
The skid-steers of the past were great in that you could switch the bucket out for a pallet fork, or landplane. This quickly made them a very attractive option for many people. The tractors that had been around job sites started disappearing and left gaps in capabilities. These gaps left the skid-steer industry reeling to figure out how to fill that void.
The dawn of a truly multipurpose machine was on the horizon with the addition of live hydraulics to the front of the lift arms to power attachments. The use of mowers, post augers, grapple buckets, and many more attachments came on the scene.
With added capabilities, the skid-steer world was redefined and was a capable machine for nearly any project, or customer. Some of the most impacted industries were in the landscaping, tree care/removal, and the snow removal businesses. These businesses all require large amounts of manual labor and heavy lifting to
complete jobs.
The addition of a skid-steer to a property maintenance business was a paramount shift in production and revenue. With this new workhorse, it helped lead to diversifying and bringing value-added options for customers, such as mowing, stump grinding, or other general land clearing options. By adding a rotary mower, forestry mulcher, or stump grinder, you will expand your business opportunities. This diversity will allow you to take on most vegetation management jobs.

Fast and Economical Solution
A skid-steer rotary mower is an excellent option for anyone looking for a fast and economical option to clear thick brush and grass on a large-scale operation, or an individual who wants a nicely manicured estate. Large scale contractors that are in the trenches daily clearing and maintaining land, benefit from the low cost of operation while running.
Property owners who are maintaining land with a rotary mower will take notice of the ease of operation and inexpensive maintenance. This agile attachment is capable of cutting large trees (10") and is useful for maintaining areas that have been previously cleared. The cost of a rotary mower makes it a great addition, as it will not break the bank both in purchase price and operational expenses.

Heavy-Duty Brush and Land Clearing
In taking on land clearing with the rotary mower, it may be apparent that you need more capability in some areas of work. While the rotary mower is extremely productive and capable, the skid-steer forestry disc mulcher and drum mulcher are different and can genuinely bring your land clearing work to the next level. Mulching is only possible with a drum or disc mulcher - as a rotary mower cannot produce that fine of mulch. However, both the disc and drum mulcher are great options for heavy-duty land clearing and reclamation. The disc and drum mulchers will afford the potential to increase your capabilities and business opportunities.
There are a couple of different things to think about in the mulcher space. Are you operating in wide-open spaces, clearing pastures or thinning forest understory? This is a fit for a forestry disc mulcher. While this is the most efficient way to mulch, the trade-off is they tend to throw material.
Are you going to be clearing lots in residential areas, cutting fire breaks around homes, or other valuable pieces of property? With a drum mulcher, you have better control of exhausted material, making this option favorable.
In either mulching application, you will end up with a nice even carpetlike bed of mulch, providing nutrients that will support the desired natural regrowth and grasses.

Tree Stump Removal
While taking on these jobs in the newly expanded arenas, you are creating stumps, or hand-felling trees where using an industrial mulcher is not an option. Once a tree is cut, and the trunk is on the ground, it can quickly be hand processed or mulched using a skid-steer disc or drum mulcher. A skid-steer can then haul away the trunk or mulch, leaving you with only the stump left to cleanup.
With the addition of a skid-steer stump grinder attachment, you now are afforded the luxury to quickly attach a stump grinder and remove the stump during the cleanup process. By eliminating the need for an expensive dedicated stump grinder, it will not only save you time but it will allow you to increase your bottom line.

Skid-Steers or CTL's have changed the way we can take on jobs. The versatility of these machines makes your imagination the limit on what they are capable of doing. They are a "Swiss Army Knife" and pair well with Diamond Mowers' wide offering of both standard flow and high-flow skid-steer attachments.
When considering the options for clearing land, you will want to take into account what you will need to maintain in the future. No land management option will give you the "one-and-done" solution to maintain your land. Consistent and timely management is imperative to properly maintaining vegetation.
Are you looking for a new attachment for the upcoming season? Buy attachments from Diamond Mowers at your local dealer or contact us directly.