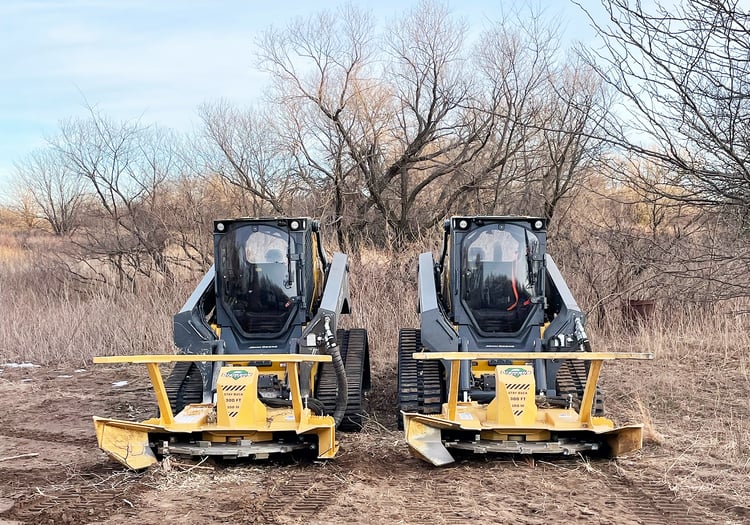 Diamond Mowers' customer, Gary Shaw, shared his experience with Diamond's Skid-Steer Disc Mulcher for land clearing and vegetation management.
Name: Gary Shaw
Company: High Plains Habitat Management
Location: Hoxie, KS
Owner/Operator: High Plains Habitat Management specializes in land clearing and vegetation management in Kansas and Nebraska
Skid-Steer: John Deere 333G
Diamond Mowers Equipment: 60" SK Disc Mulcher Pro X
The climate in northwestern Kansas is characterized by hot, humid summers and mild-to-cool winters – ideal conditions for Eastern Red Cedar and Locust trees to thrive. Unfortunately, both are considered invasive species and can infest and degrade land, harm native ecosystems, overtake fields and forests, and kill off valuable grazing and production land.

To protect his clients' properties, Gary Shaw, owner of High Plains Habitat Management in Nebraska, relies on John Deere Compact Track Loaders paired with Diamond's Disc Mulcher Pro X to tackle and tame these tenacious intruders. Engineered for use in rural environments, the versatile 60" mulching attachments can cut through trees as large as 14" in diameter and continuously mulch material up to 6" in diameter. Four-point hardened steel teeth inside the deck shell act like axe blades to slice though broken branches and trees, while their aggressive design effectively grabs and pulls in material for processing.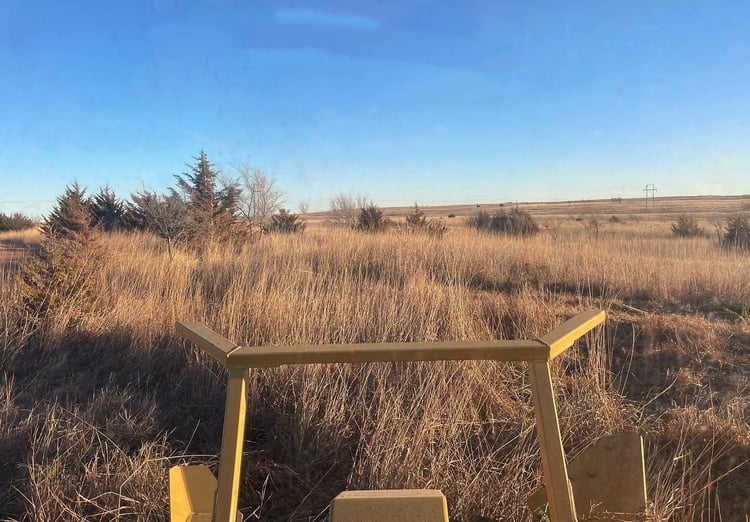 Growing up on a family farm, Shaw learned quickly how precious land is and the importance of managing the relentless pests that would sprout from time to time. Because of this background, Shaw and his team have stringent eradication measures in place to minimize the spread of invasive species and prevent damage to the environment in their service area.
"In a business such as farming or ranching, being as productive as possible directly affects your profits," said Shaw. "That's why we love our Diamond mulchers. We can clear more trees with lower fuel costs and fewer hours on the machine, allowing us to increase efficiency and productivity."
When Shaw was ready to invest in new land clearing and brush cutting machinery, he sought the help of Murphy Tractor, an authorized John Deere dealership and a long-time Diamond Mowers dealer. "Not only were they great to work with," Shaw noted, "but they were extremely knowledgeable about Diamond's products."
When asked about Diamond's customer service, Shaw admitted that he hasn't had to use the service yet. "It's been such a great product that we haven't run into any issues," he explained. "Diamond has been very easy to work with and we would definitely recommend them to others. They make a really good product."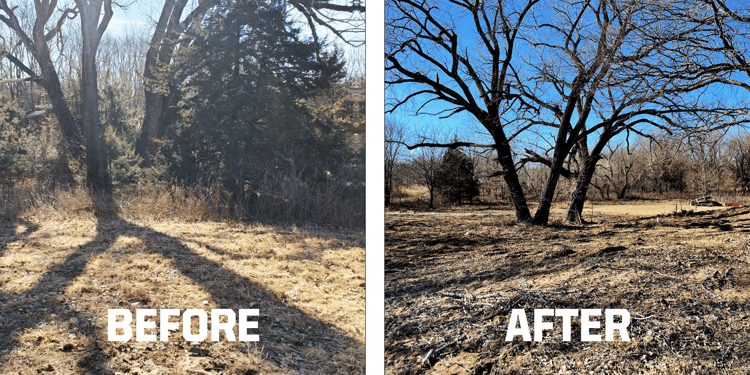 Before and After photos of vegetation maintenance.


Diamond Mowers offers a wide range of specialized cutting attachments compatible with most tractor, skid-steer, wheel loader, and excavator brands. Visit DiamondMowers.com for more information or to find a dealer near you.