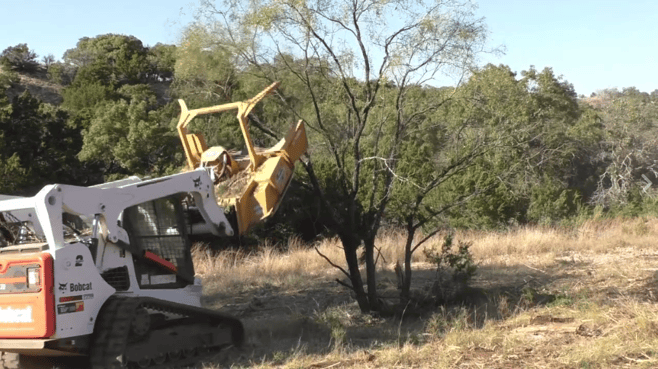 Overgrown Mesquite on rangeland in Tuscola, TX being eliminated by the Diamond 60" Skid-Steer Forestry Mulcher.
The increase of Mesquite trees in southern states has consumed pasturelands, fueled drought conditions, and increased salinity in shallow marine areas due to lack of groundwater flow, harming native species and hurting rangeland production.
Mesquites are heavy water consumers. A single tree can consume nearly 21 gallons of water per day. It is considered the most common pest plant in Texas. Almost a quarter of Texas' grasslands are infested with Mesquite.
The range of Mesquite now covers nearly 2.5 million acres of land across the US and Mexico, extending from Northern Mexico, all the way up through Kansas.
Honey and Velvet Mesquite
The most problematic types of Mesquites in the US and Mexico are Honey and Velvet Mesquite. These plants are:
Typically 20-30 feet tall

Thorny in nature

Spreading rapidly - Cattle consuming Mesquite beans contribute to the rapid spread of these invasive plants
How do you control Mesquite?
Mechanical Control with Diamond's Forestry Mulcher
The purpose of Mesquite control is to increase groundwater flow. This helps allow for grassland growth and a decrease in salinity in shallow marine areas
There are a variety of options for removing these plants, such as prescribed burns, dozing and chaining. However, these options are high risk and not effective, long-term solutions.
The most effective solution is mechanical control with Diamond's Forestry Mulcher. Operators can cut trees up to 14" in diameter, mulch material, and have the ability to grind stumps below ground level - which is crucial as Mesquite have extensive root systems. Using a mechanical control method prevents Mesquite trees from re-sprouting, making it a long-term solution.
Watch how you can control Mesquite trees with a Diamond Skid-Steer Forestry Mulcher: