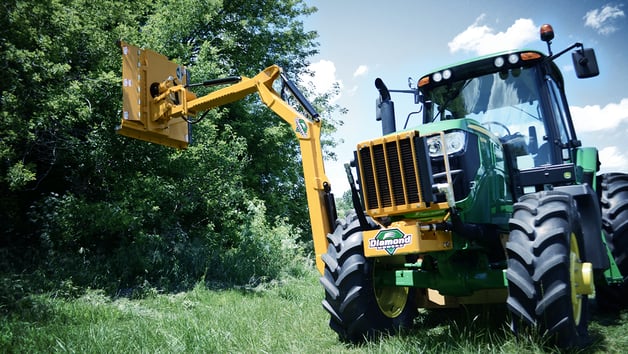 A well-defined maintenance schedule is key to the reliability and longevity of Diamond products.

Cleaning Equipment
Storing equipment without cleaning debris invites rust and corrosion, hides damage, and lowers the lifespan of the product.
Use pressurized air and pressure washers to remove debris from both the top and underside of the cutting deck, blades and cutting shafts.
Take care around electronic components and exposed electrical connections, as you don't want to expose them to pressurized water directly.
When cleaning the oil cooler fan, clean by hand or use pressurized air to prevent damage to the radiator cooling fins.
Remove hydraulic oil from mower surfaces by hand or pressure washing; a mild soap or detergent with oil lifting surfactants can help in removing the oil. Oil left on mower surfaces can attract dirt and debris.
Use a sponge, soft cloth, or chamois with warm water and mild soap to clean Lexan safety glass.

Do not clean with ammonia, abrasive cleaners, alkaline cleaners, paper towels, metal blades, or squeegees.
Equipment Maintenance
Properly maintained equipment is more reliable, operates more efficiently, and lowes overall operating costs.
Inspect the equipment for loose or missing bolts and fasteners, and repair, retighten, or replace.

Always use Loctite when indicated, and torque per the recommended specifications listed in your operator's manual.

Inspect metal/painted surfaces for rust and corrosion. This often occurs where debris or moisture collects on the mower during use.

If rust/corrosion is discovered, lightly sand the area and damaged paint. Then touch up the area with fresh paint.
If the damage is more severe (bubbling, raised or corroded surface,) sand or bead blasting the local area may be required, followed by fresh paint.

Inspect all electrical, hydraulic, and gear driven systems for leaks, frayed wires or hoses, damaged bearings or linkage, and make repairs as needed.
Change your oil and filter(s), preferably together.
If your unit is equipped with casters with inflatable tires, make sure the tires are inflated to the proper pressures per your operator's manual or pressure specifications listed on the tire sidewall.
Lastly, finish up by lubricating all grease zerks, bearings, and joints with the recommended grease or lubricant.
Equipment Storage
Properly stored equipment will remain cleaner, resist damage from the environment, preventing future maintenance costs.
Store your equipment indoors to prevent rodents or pests nesting in equipmentas well as help prevent fading and oxidation of paint.

Tires are susceptible to ozone and UV light; which is why storing them indoors eliminates tire degradation.
If the unit must be stored outdoors, place a tarp over the unit to protect it from the elements.
Indoor facilities that are climate controlled are preferable, but any indoor storage beats any outdoor storage.

Below is a video link describing the benefits of indoor storage; it primarily references farm equipment, but is completely applicable to the D.O.T., township, or municipality equipment storage needs:


If you wish to spend more time cutting, have less down time for repairs, and lower your overall maintenance and repair costs, follow the simple outline above. You will be glad you did.