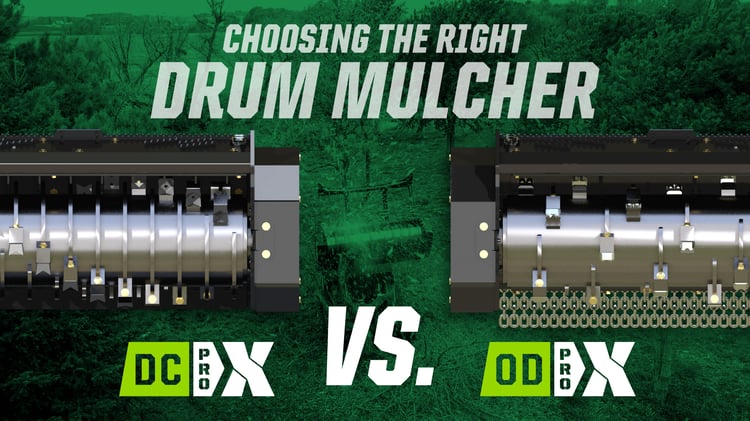 Ideal for land clearing, vegetation management, and utility or roadside maintenance, a drum mulcher serves a variety of needs. These attachments solve a variety of problems, such as maintaining an agricultural property, mitigating the spread of invasive species, infrastructure development, and right-of-way clearing. Drum mulchers get their name from their cylindrical, drum-like shape. These lean, heavy-duty mulchers attach to skid-steers and shred small trees and brush with a forward spinning motion – a quality that makes them great options for quick brush and undergrowth removal.

There are two common types of drum mulchers – depth control and open. How do you know which drum attachment is right for the job at hand? Understanding the distinct functions, features, and intended applications for each will enable you to determine the best drum for your land management needs.
Depth Control vs. Open Drum
The Depth Control and Open drum are available in 60" and 72" cutting widths and can efficiently process small trees, brush, and undergrowth up to 9" in diameter. Both attach easily to many skid-steers or compact track loaders. Both are compatible with different types of mulching teeth, allowing operators to select the right tooth for various applications while maintaining drum balance. The key differences between depth control and open drum mulchers lie in their operation and application.
Operation Differences Between Depth Control and Open Drum
The difference between the open and depth control drums lies in the way they process material. The Depth Control Drum's helical tooth pattern, modeled after a vacuum brush, feeds material efficiently toward the center of the drum, while depth control rings limit bite size for optimal infeed. The processing chamber is shaped to effectively mulch on the first pass, limiting the need for back-dragging. The drum is optimized for sharp steel teeth and mulch is created when those teeth first engage the material. The depth control rings work in conjunction with the teeth to give the operator control of the cutting action making it a great option for larger material.

The new Drum Mulcher OD Pro X offers a hybrid design that fuses the best performance features of depth control and open drum mulchers into one versatile attachment. This innovative model features an optimized infeed system that produces a smaller end product than conventional open drum models. A heavy-duty push bar with extended, serrated side plates pushes and clears brush, while directional rake tines deflect vegetation back to the rotor and shredding chamber where it is ripped apart as it is forced between the rake tines and the rotating drum. Optimum shredding performed in the chamber reduces the need for back-dragging and delivers a uniform, aesthetically pleasing mulch. The Open Drum is optimized for carbide teeth making it ideal when the application calls for heavy ground engagement and rough terrain.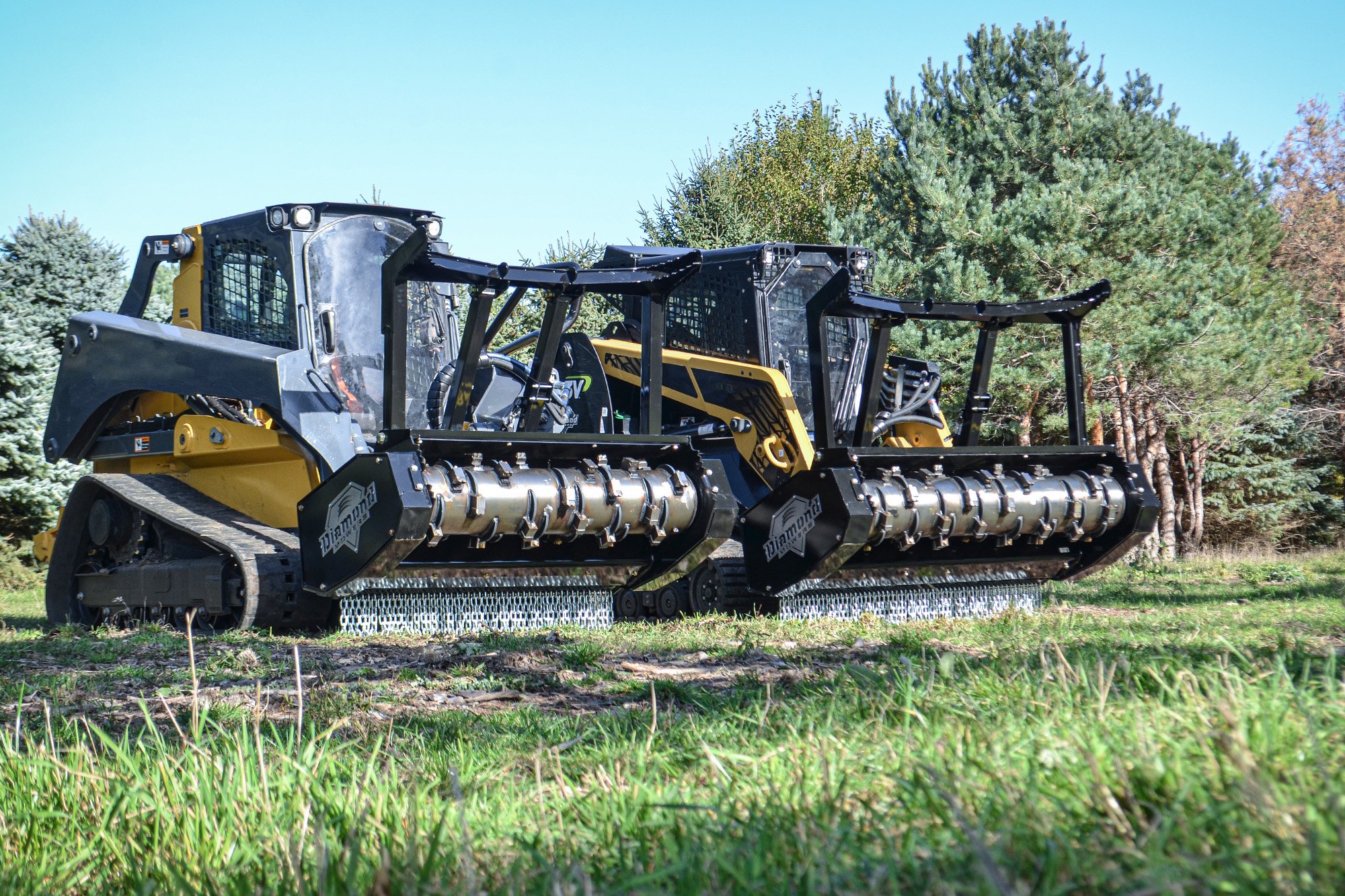 Depth Control Applications vs. Open Drum Applications
Primarily used for large-scale brush clearing, undergrowth removal, and vegetation management where there is limited ground contact, depth control mulchers excel at taking down larger material. Depth control mulchers are also masters at processing hard or fibrous wood such as bamboo or palm because their sharp teeth make them more efficient than open drum models. By limiting the bite size, these models create a finer mulch, which makes them a great choice for landscaping and other jobs where aesthetics are a factor. They are also great for pasture reclamation, residential retention, pond maintenance, and other jobs where a first-class finish is very important and when ground contact will be limited.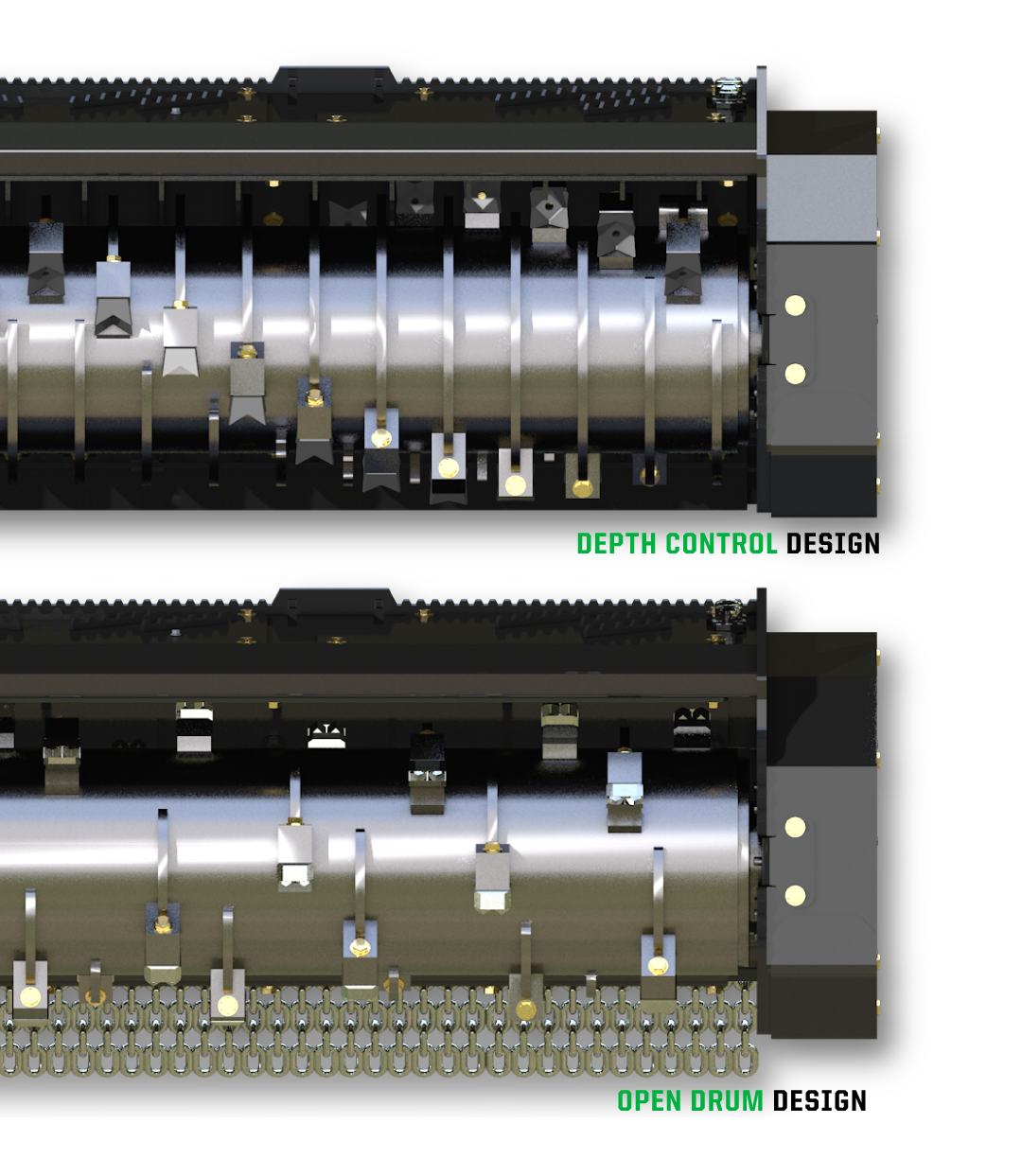 Made for a wide range of heavy-duty mulching applications, open drum mulchers are your best bet to clear land for agricultural use and infrastructure development, vegetation management, and habitat restoration. Because it gathers and takes in the entire piece of vegetation it is more productive on smaller materials and is the best choice for applications where significant ground contact is expected or when mixing mulch into the soil. This drum is also a good choice when the product may take some abuse. They are also good for pasture maintenance, creating defensible space around mountain properties, and use in rental fleets.



The Diamond Open Drum is unique because it creates a finer mulch on the first pass than competitive machines. This is due to the shorter tooth and tooth holder height in combination with the progressive mulching chamber design and strategic rake tine positioning.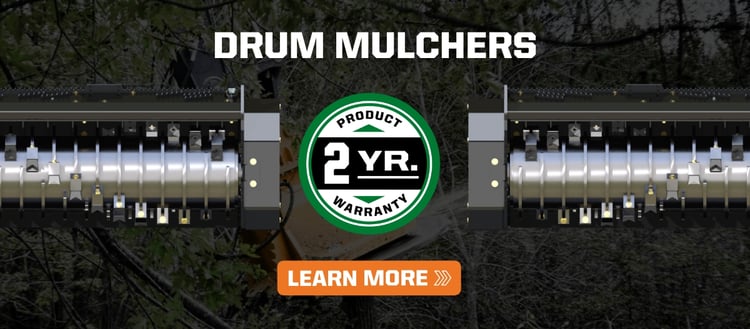 ---
To learn more about our Drum Mulchers and other Diamond Mowers offerings, visit DiamondMowers.com. For more information, call 605.977.3300 or email hello@diamondmowers.com.