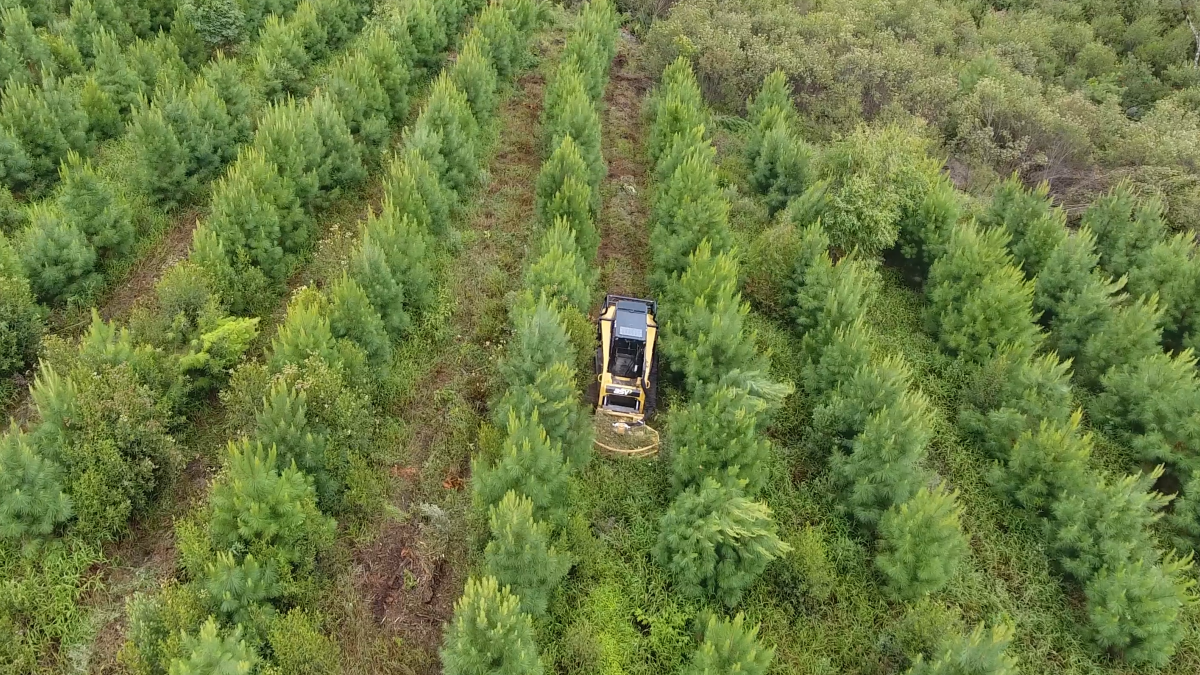 In Brazil, it is common for a Eucalyptus forest to be planted over a Pine forest, which can result in volunteer pine trees as a major problem, specifically between the rows. If there are too many Pine trees in a load, mills can reject the harvested Eucalyptus trees.
Removing these unwanted Pine trees, as well as other vegetation between the rows of planted Eucalyptus trees, requires a mechanical solution. Diamond offers a Skid-Steer Forestry Mulcher that can effectively remove large vegetation using a Compact Track Loader (CTL) that is small enough to fit between the rows.
By using this solution, it will provide the following benefits:
It is affordable
It can increase harvesting speed by as much as 30%
It prevents expensive harvest equipment from having to remove Pine trees
The removal of the unwanted Pine trees prevents rejected loads at the mill

STUMP MANAGEMENT
When harvest is complete, stumps can slow down skidding operations and make re-planting more difficult. Stumps are generally removed in two ways:
V-Shear mounted to a bulldozer – this is very expensive, has high fuel consumption, and leaves large debris between the rows
Drum Mulcher mounted to an excavator – this is very expensive and has high fuel consumption. The equipment is often too large to work between rows if used for any pre-harvesting operations.
Diamond's Skid-Steer Forestry Mulcher is a great alternative to these options. This solution slices the stump off, using the hydraulic energy much more efficiently than a drum mulcher.
Additional benefits include:
It can increase productivity by almost 50% over excavator-mounted drum mulchers
The sharp steel teeth the Skid-Steer Forestry Mulcher contains cuts the material very efficiently
The time between stumps allows the disc to speed up, fully utilizing the energy output of the CTL

Watch the Diamond Mowers Skid-Steer Forestry Mulcher in action!
Expoforest 2018 In Brazil from Diamond Mowers on Vimeo.