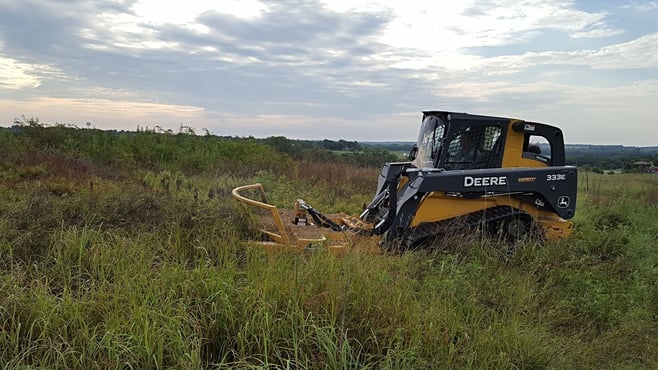 Days are getting longer, and the weather is warming up. Spring is officially here in the US. Learn some ways that you can increase your paychecks during this time of the year.
Remove Invasive Trees In Pasture Settings
Spring is your last chance to get out and remove invasive trees from pasture settings without disturbing the grass. Eradicating invasive species on site is an attainable goal, especially if new introductions are detected early.
Invasive Species by Regions
Midwest - Eastern Redcedar - 29.3% of non-Federal Pasturelands

Northeast - Multiflora Rose - 21.1% of non-Federal Pasturelands

Northern Plains - Eastern Redcedar - 3.4% of non-Federal Pasturelands

Southeast - Eastern Redcedar - 17.7% of non-Federal Pasturelands

South Central - Mesquite - 17% of non-Federal Pasturelands

West - Juniper - 1-2% of non-Federal Pasturelands
Brush Clearing for Food Plot Planting
Now is the time to get brush cleared in preparation for food plot planting on deer properties. As wildlife management has evolved, it is understood that food plots provide deer with health benefits they wouldn't otherwise get from natural browse. Come up with a list of deer properties in your area to reach out to for lead generation.


Clearing Before Seeding
Early spring is an effective time to remove many species of invasives. Get them out before they go to seed. Invasive species can cause environmental and economic harm. They pose a serious risk by altering and degrading the environment.


Get The Most Out Of Your Forestry Teeth In The Spring
Mulching in the spring is one of the best times to get the most life out of your forestry teeth. After the snow is gone and before ground foliage comes in, is an operator's best opportunity to see exactly what is on the ground, and can avoid hitting rocks and other obstructions while mulching and land clearing.


Make the most out of your equipment when the weather warms up. Keep operating with your Diamond Skid-Steer Rotary Mower or Forestry Mulcher year round!


WATCH NOW
| | |
| --- | --- |
| Rotary Mower | Forestry Mulcher |