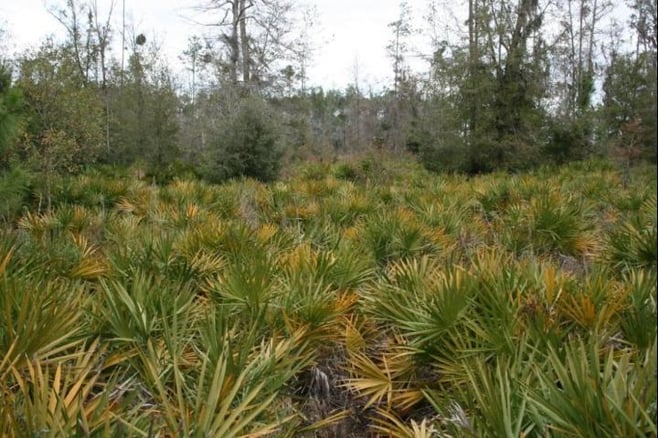 Saw Palmetto overgrowing rangeland in FL. (Photo courtesy: University of Florida IFAS Extension)
Saw Palmetto and Brazilian Pepper Tree are infesting and degrading rangeland and harming ecosystems in the Southeastern US, ranging from Arkansas to Florida.
Both noxious plants present their own unique challenges to producers and ranchers. One is alien to the ecosystem, while the other has been in the southeast for many years.
Saw Palmetto
Saw palmetto is a shrubby palm species native and common to the southeast. Plants are typically 2-8 feet tall. The purpose of saw palmetto control is to increase forage yield and therefore to increase cattle-carrying capacity. This helps allow for a positive change in botanical composition, with more bluestems and indiangrass for grazing.
Machinery on the range with brush cutters is one of the most common practices for saw palmetto control.

Brazilian Pepper Tree
This is an aggressive invasive species that was brought to Florida in the 1840s. These trees can live up to 35 years and have a high flood tolerance. This non-native invasive plant is a weed in natural areas because it displaces native plants and associated wildlife, including endangered species, and can alter natural processes such as fire and water flow. It also poses a significant threat to ongoing Everglades restoration efforts.
How do you control these invasive species?: Mechanical Control with Diamond
There are a variety of options for removing these plants, but many are high risk and not effective long term.
The most effective solution is mechanical control. This can be accomplished effectively and efficiently with Diamond's Skid-Steer Rotary Mower or Forestry Head. Operators can cut trees up to 14" in diameter, mulch the material, and have the ability to grind stumps below ground level. Using this method prevents pepper trees and palmettos from re-sprouting, making it a long-term solution.
Watch how you can control brush and trees with a Diamond Skid-Steer Mower:
Diamond Forestry Cutter Demolishing Thick Brush from Diamond Mowers on Vimeo.