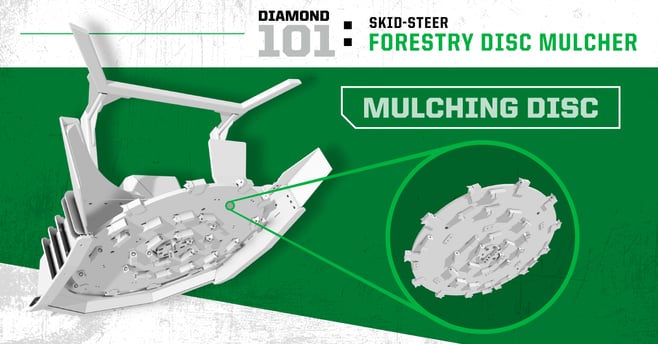 There are five fundamental components of Diamond's Forestry Disc Mulcher; including the motor, teeth, disc, spindle and shell. Why did Diamond choose to use these specific components, and why are they successful? Let's look at the cutting disc design.
DISC
Diamond's forestry disc is machined from special, one-inch thick steel with a very tight flatness specification.
A flat disc is critical for smooth operation – at around 1,000 RPM an out-of-balance disc can have serious consequences for spindle longevity. The alloy we chose is very strong, at 100 ksi tensile strength (1 ksi = 1,000 psi), nearly 3x stronger than more commonly available steels. This strong steel resists bending, and retains the tooth holder tightly for the life of the attachment.
THE FLYWHEEL EFFECT
Many mechanical devices use a flywheel, and this flywheel always does the same job – to store energy and release that energy when needed. Our forestry disc mulcher is no different.

The flywheel effect allows the mulcher to release stored energy when needed. Any spinning object stores energy to some degree, but a larger diameter geometry stores much more energy than a smaller one; additionally, the faster the disc spins the more energy it stores.

On a high flow skid loader with 40 GPM, the spinning disc on a Diamond Forestry Disc Mulcher with a gear motor has the same kinetic energy as a half-ton pickup traveling 65 mph. An advantage of a piston motor is that it spins the flywheel faster, with the same 40 GPM the kinetic energy is equivalent to the same pickup at 80 mph. Imagine all that energy behind a single two-inch cutting tooth, and you can understand why the Forestry Disc Mulcher is so formidable.
OPERATION
When you first start a disc mulcher, you'll immediately notice that it feels like it takes a long time to come up to speed. During this acceleration phase, the skid-steer is pouring energy into the disc. Managing the disc energy is key to getting the most out of the mulcher. Ideally, the disc should never drop below 80% of maximum speed.

Whether a gear or a piston option, the fixed displacement motor is sized for maximum performance at normal operating speed, which is akin to running a vehicle with only overdrive. You could easily manage your speed between 55 mph and 65 mph, but performance suffers at lower speeds. Feeding a tree through the mulcher requires a lot of energy - give your disc time to recharge its energy between trees for maximum productivity and explosive results.

We love to talk equipment, so even if you're only a little interested in our disc mulcher give us a call (605) 977-3300, or email: info@DiamondMowers.com
---
Watch the Diamond Skid-Steer Forestry Disc Mulcher in Action: