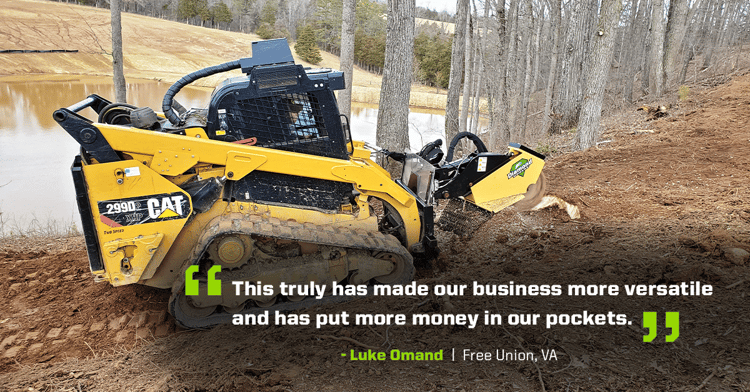 Diamond Mowers' customer, Luke Omand, shared his experience with Diamond's Skid-Steer Miller Stump Grinder for removing tree stumps for land management.
My name is Luke Omand, and I'm the owner and founder of Piedmont Land Management LLC in Free Union, VA. We are a full-service land management and forestry mulching firm. We assist landowners in the selection, design, and implementation of improvement projects and ongoing maintenance to ease the burden of land ownership.

We purchased a Diamond Miller Stump Grinder for a larger project that required a stump grinder beyond the capabilities of our forestry mulchers. It also replaced the need to hire a company to come in with a stump grinder for smaller residential projects that previously were outside of our abilities.

"This truly has made our business more versatile and has put more money in
our pockets."

We have used the Miller Stump Grinder in backyards with our high-flow skid-steers as well as on logging cutovers and pasture conversions. It has changed the opportunities that are available to us.

The Customer Service at Diamond has been excellent! They were able to walk us through questions with our attachment. In addition, they helped us solve some operational issues we were having, making us better operators.

Ordering teeth and bolts has been very easy. We are pleased with our purchase!
---