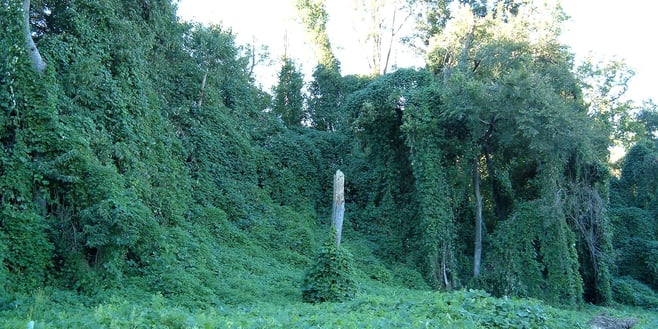 Kudzu is an invasive plant that originated from parts of Asia, including China, Japan, and Korea. It was introduced in the U.S. in the late 1800s as a way to shade porches, specifically in the south.
Kudzu has also been used to feed livestock and to aid in erosion control. With its strong root system and fast growth, it made Kudzu an appealing solution for erosion control, especially during the 1930s. In fact, the Soil Conservation Service paid farmers to plant the vine at a rate per acre.
Since then, it has become an invasive species that covers the southern United States, stretching from Texas to New York.
WHAT KUDZU LOOKS LIKE
Produces long, hairy vines that climb almost anything including trees, buildings, and powerlines
Has dark green oval leaves 3-4 inches long
Vertical growing Kudzo in sunlight can produce flowers in the late summer. Flowers can be red, purple or magenta.
Produces clusters of hairy, brown seed pods that contain 3-10 kidney bean-shaped seeds
CHALLENGES
Kudzu can damage or kill other native plants by covering them with its leaves, surrounding tree trunks, and even breaking branches with its weight. It can withstand drought and frost, as well as escape fire damage due to its underground root system. Additionally, the seeds of Kudzu can remain dormant and take several years to germinate, making controlling the vine more difficult.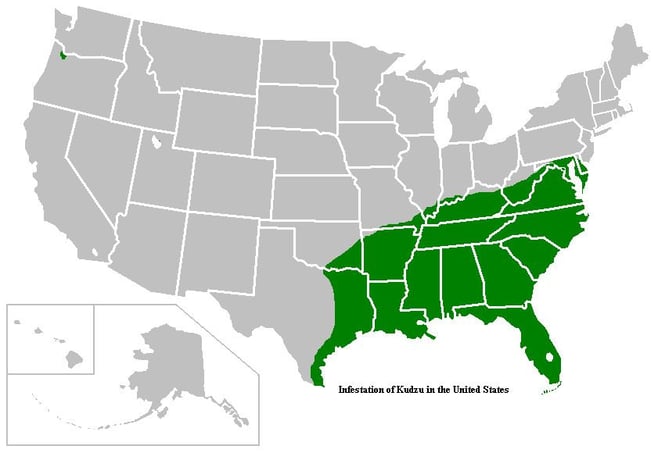 SOLUTIONS
With its growth rate, managing Kudzu is a real challenge. Many have tried chemical solutions and physical methods with not much success. The key to eradication of Kudzu is continued annual maintenance and killing every root crown. It may take several years for complete obliteration. For continued maintenance, we recommend our Skid-Steer Forestry Disc Mulcher.
---
Watch the Diamond Skid-Steer Forestry Mulcher in Action: