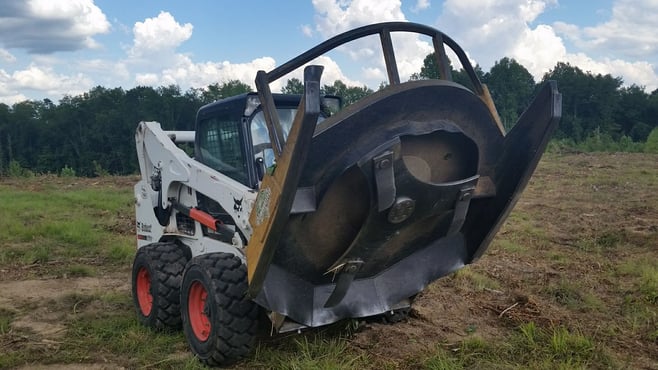 Running equipment can be expensive. Keep your costs down, increase productivity and profit, and extend the longevity of your equipment by following a few steps.
Keep Equipment Clean
Clean branches, grass, and mulch off of the deck surface daily. This makes it easier to identify hydraulic leaks and prevents rust by allowing moisture to evaporate.
Clean debris from the pivot points of the loader arms. Material allowed to pack in these pivot points will stress the pins and wear bushings faster.
Clean dust and debris from the skid-steer radiator, coolers, and filters. A free breathing machine will perform better, be less likely to overheat, and reduce the chance of engine fire.
Clean windows to improve visibility.
Change Fluids
A Diamond mulcher requires an oil change once a year or every 500 hours
Engine and hydraulic oil should be changed according to their manufacturer's schedule – most often every 100 to 500 hours.
Grease
Diamond Skid-Steer Rotary Mowers and Forestry Mulchers with greaseable spindles require 10 pumps of #2 lithium grease in each of the two grease fittings every 500 hours or once a year.
The skid-steer carrier will have grease fittings on all of the pivot points of the loader arms in addition to other places. See the operator's manual for specifics on a particular model.
Keep Blades & Teeth Sharp
Forestry Mulcher teeth cut most efficiently when they are sharp. Stay productive by following a tooth maintenance plan that includes sharpening, rotating, and replacement.
Rotary Mower blades can get cracked, dull, and worn over time. Diamond does not recommend sharpening rotary blades because it can alter the balance of the disc. Replace blades as a complete set after they've become 50% worn from original width.
Daily Inspection
A thorough, daily inspection of the skid-steer and attachment will help identify problems before they become catastrophic.
Check for hydraulic leaks, cracks and bends, loose or missing bolts, and track/tire condition.
For more answers to common maintenance questions visit Tech Tips.