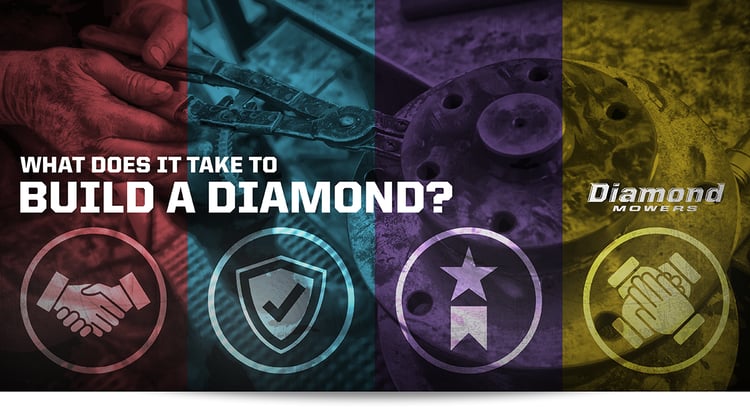 Putting a Diamond product together is much more than simply bolting or welding parts. It takes our core values to piece together our attachments.
Customer Focused Products

Our products are designed and built to address the needs of our customers (you!), but what about our internal customers within the company?
Products are designed not just for ease of use with effective results for our customers, but to flow through our assembly process with minimal delays or issues, allowing our staff to focus on quality and precision.




Products flow through various departments when being built, and each department downstream in the assembly process is our customer as well. We work to build our products in a manner that makes our downstream assembly customers more successful in putting together a quality product.

Our company continuously communicates between various departments to improve our products.
You can be assured all customer feedback is heard and addressed, as Diamond is focused entirely on the customer experience.
Accountability
Nobody is perfect, and everyone makes mistakes, including us! How we address our customers' concerns, and problems is what sets us apart.

Diamond puts as much effort into producing a quality product as possible. Occasionally a product issue can slip through, but Diamond is committed to the customer. We OWN that problem and make it right!
Excellence
Everyone wants to lay claim to this, but what does that really mean?

Excellence is putting out a quality product.

Excellence is not being content to do something right but to strive to do it BETTER and continuously improve.

Excellence is INTEGRITY - truly CARING about how our product and service HELPS our customers.
Team Player
How does being a team player affect you, our customer?
Putting aside our personal aspirations for the benefit of our team allows Diamond employees to collaborate more effectively, produce a better product, and improve quality.
Diamond encourages its employees to collaborate instead of compete and to treat each other with dignity and respect. This, of course, extends out of the company to our customers (you)!


To learn more about our heavy-duty attachments, visit our Products page.