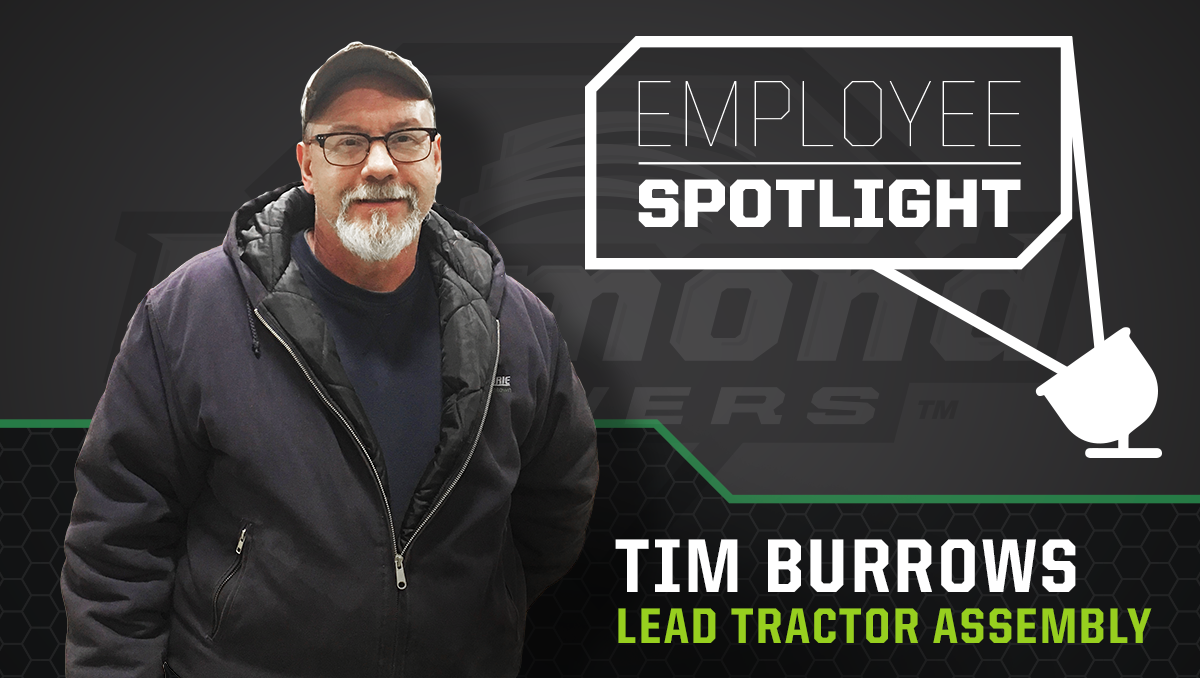 Diamond appreciates and values the people who contribute to our positive culture. Meet Tim Burrows, Tractor Assembly Lead at Diamond Mowers.
How long have you been with Diamond Mowers, what is your role, and how has it changed over the years?
I started working at Diamond Mowers in December 2016. I worked in Parts for about six months and as Diamond grew, new positions opened up and I was able to move into Assembly. In Parts, my job was to pull parts for builds or to ship to customers. I found that starting in Parts has helped me considerably as I assemble tractor-mounted Diamond products. It gave me the knowledge to read a bill of materials and correlate each part to a build.
What do you like most about working at Diamond?
The diversity and pride. Every day you come in it's different. I also enjoy the people I work with and the job. I've always enjoyed starting with a blank slate and turning it into something different and being proud of what I've done.
What is your favorite Diamond product?
The Skid-Steer Forestry Mulcher. You can take a six-inch tree and turn it into mulch in seconds.
What do you enjoy doing in your spare time?
I enjoy woodworking. I'm always working on a few small projects, like new cabinets for my basement. I grew up in a family with backyard garage mechanics and construction workers, so working with my hands comes naturally.
What is a fun fact your co-workers don't know about you?
I have a Culinary Arts Degree and worked as a chef for about 12 years. When I lived in Pennsylvania I was a chef at a 4-star restaurant. I've have driven a race car at 205 mph. I enjoy wearing kilts on my days off - embracing my Scottish heritage or just a reason to get someone to smile.
Want to be the best? Join the best!