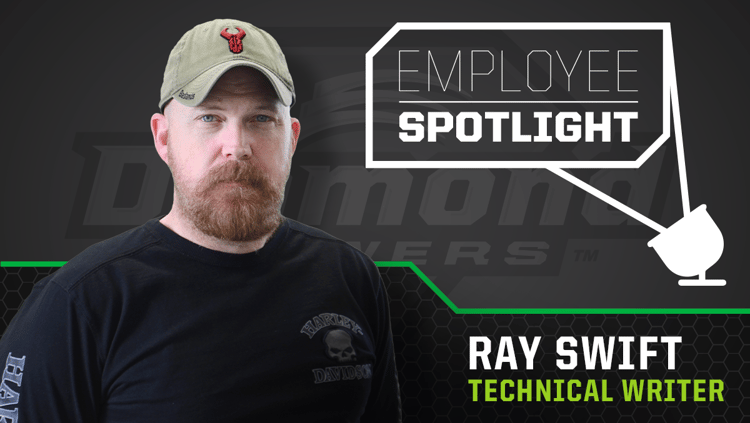 Diamond appreciates its employees who represent our Vision and Values. Meet Ray Swift, Technical Writer, an example of commitment and excellence.
Role at Diamond
Ray is a Technical Writer and has been with Diamond for 16 years. In this role, he writes, creates, manages, updates, and publishes all operator's manuals, mounting instructions, parts books, and service bulletins.
Evolution of the Job
Over the years, Ray's position at Diamond hasn't changed so much as it has expanded. His duties have expanded from mounting instructions and operators manuals to include managing parts books, decal design, and writing blog content. Ray exemplifies our customer-focused value by helping drive the success of our customers. A successful customer is a well-informed customer, and with the assets he has helped create, our customers have a wide breadth of knowledge available to them.
A Man of Many Words
In addition to all the above-mentioned manuals, instructions, and books Ray also writes some of Diamond's technical Blog articles. Check out some of his contributions:
Outside of Work
If you are looking for Ray outside of work, you will need to break out your hiking boots as he likes to spend as much time outdoors as possible. Don't forget to pack your blaze orange if you find Ray; he will most likely be hunting, hiking, or taking in one of his other outdoor hobbies. You may also find him zooming around on his Harley to a local coffee shop to get a quad-shot, dark roast, espresso.
Inspiration
When asked who inspires him, Ray answered Theodore "Teddy" Roosevelt and his famous quote, "Speak softly and carry a big stick; you will go far." Ray feels Roosevelt viewed leadership as an ongoing project of self-creation; leaders are created, not born.



Want to be the best? Join the best!