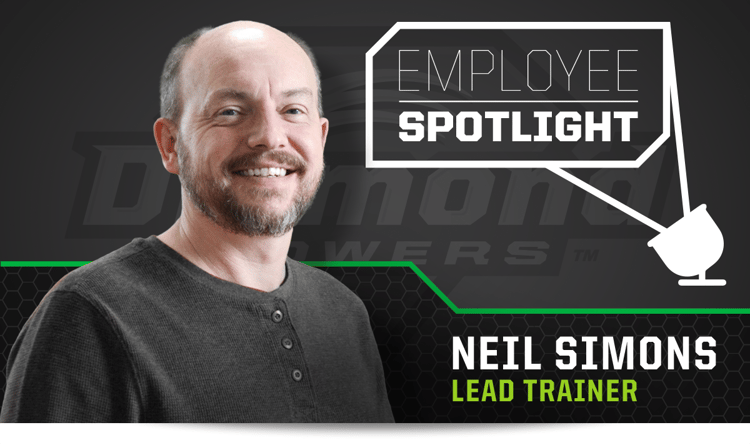 Diamond appreciates and values the people who contribute to our development. Meet Neil Simons, Lead Trainer at Diamond Mowers.
Neil has been with Diamond for over 10 years. Neil's career at Diamond started in Assembly, where he worked for three years assembling various tractor mower combinations. After a few years in Assembly, he was called upon to develop a training program.
The training program has evolved extensively over the past several years. Initially, the training program was introduced to help our municipal dealers with proper instruction on how to mount various mower attachments onto tractors. As Diamond grew and added the skid-steer product line, the training program expanded to help support our growing dealer network. Today our training department covers a broad scope of training and educational functions:
Municipal & Skid-Steer Dealer Training
Municipal Installation Training
Skid-Steer Operations Training
Demo Day Events
Internal Diamond Training
Development of Tech-Tips & In-Service Guides
When asked what drives the passion for developing new training functions, Neil responded:
"We are one of the only companies in this field who has a training program. Our product lines require finesse whether you're installing a 30-ft Rear Cradle Boom with Rotary Mower or operating the Skid-Steer Forestry Disc Mulcher. Without a training program, I feel people would be more apprehensive about trying new products or being able to mount or operate them effectively. Our training program embodies one of Diamond Mowers' core visions, which is that we will excel at driving our dealers' success."
Neil's background in theater has been instrumental in the success of the training department. Not only is Neil a natural in front of the camera for the wide variety of videos, but Neil has this innate ability to draw people in while he is coaching them. This theater background also keeps Neil busy when he is not working at Diamond. Neil has produced lighting set designs for over 100 various stage productions. Needless to say, Neil keeps himself very busy.
Want to be the best? Join the best!