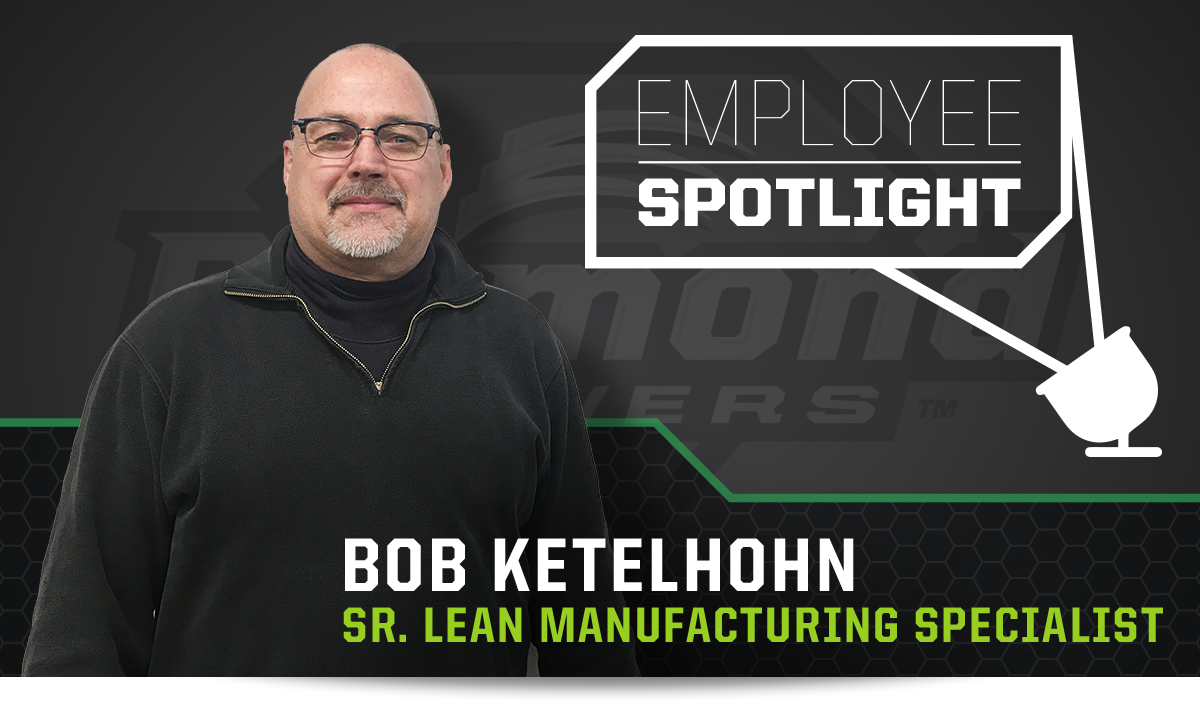 Diamond appreciates and values the people who contribute to our positive culture. Meet Bob Ketelhohn, Senior Lean Manufacturing Specialist at Diamond Mowers.
How long have you been with Diamond Mowers and what is your role?

I have been with Diamond Mowers for 13 years. I started with Diamond Mowers as the Purchasing Manager and after 5 years was asked to take over the weld and machine shop. The past 2 years I have been the Senior Lean Manufacturing Specialist. What that means is I look at ways we can eliminate waste from the manufacturing process resulting in improved efficiency, effectiveness, and profitability.
What do you like most about working at Diamond?
I like the small company atmosphere. Even though we are growing as a company we have still managed to keep the small, more personal, company feel.
What is your favorite Diamond product?
Well, I actually have a couple. One of my favorites has always been the Wheel Loader Boom. It is a unique piece of equipment in how you hook it up and can just as easily take it off and use the machine for other things. I also like the Rear 3-PT Boom, it gives us the ability to use a boom mower and not tie up a tractor specifically for mowing. You can take the boom mower off and use the tractor for other things. And last but not least, who doesn't like the Forestry Mulcher.
What do you like to do in your spare time?
My wife and I like to go hiking, walking, biking and golfing. We frequently to go to northern Wisconsin in the summertime, and Florida in the winter. We like to enjoy the warm weather and sun as much as we can. When I have time in Wisconsin I like to travel to Lambeau field and snap photos of the Lombardi trophy display to send to all my co-workers who are Vikings fans to show them what the trophy looks like.
What is your favorite ice-cream flavor/treat?
Ice-cream is my favorite - period! I prefer Blue Moon Ice-Cream. It's a very popular ice-cream in Wisconsin, a must have if you visit Wisconsin.
Want to be the best? Join the best!